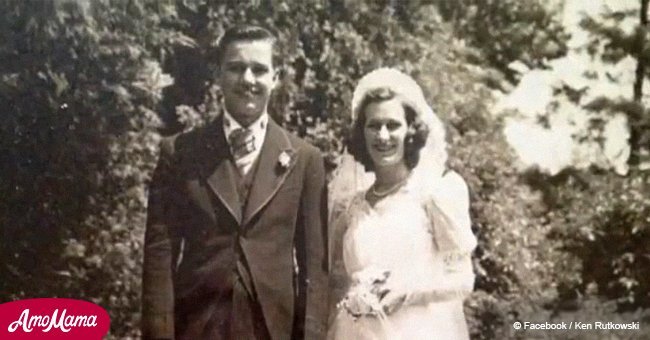 Elderly couple's final wish fulfilled after 75 years of wedded bliss
The late husband and wife only had one wish. They said they wanted to peacefully die in each other's arms. After 75 years of marriage, their wish came true.
Jeanette Toczko, 96, and Alexander Toczko, 95, passed away in 2015 just hours apart, holding each other in their bed at their home in San Diego, California.
The pair were childhood sweethearts. As revealed by the Daily Mail, they became boyfriend and girlfriend when they were only eight years old.
Up until their death, Jeanette and Alexander were inseparable from the moment they met.
Follow us on Twitter at AmoMama USA for more stories like this.
Alexander suffered a broken hip after a fall, which resulted in him being bedridden. Their local hospice had a special bed delivered to his home, which they placed side by side with Jeanette's bed.
It was only a matter of time before Alexander's health became worse and so did Jeanette's.
In the past, the couple had expressed they wanted to die "in their own bed, holding hands, in each other's arms."
As if fate had heard their wishes, they passed away holding each other's hands in their bed.
Alexander passed away on June 17, 2015, lying beside his wife.
Aimee Toczko-Cushman, their daughter, said that when she told her mother that Alexander was gone, she hugged him and Jeanette reportedly said, "See this is what you wanted. You died in my arms and I love you. I love you, wait for me, I'll be there soon."
Less than 24 hours later, Jeanette passed away.
The couple had a fruitful marriage and they shared five children together: Toczko-Cushman, Donna Tang, Richard Toczko, Lynne Edwards, and Andra Toczko.
Throughout their time as husband and wife, the couple loved traveling together. They went to places like Bermuda.
Recalling her parents' relationship, Toczko-Cushman said, "Their hearts beat as one from as long as I can remember."
Jeanette and Alexander's love story just proves that a lasting love is not impossible. With hard work and with a lot of love for each other, a couple can always make their marriage last until the very end.
Please fill in your e-mail so we can share with you our top stories!