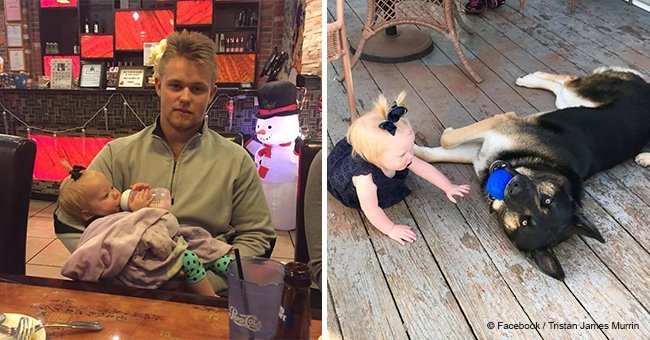 Family returns home to find floors covered in blood after pet dog attacked intruder
When this family returned home after a short vacation, they were shocked to find blood stains all over their house.
Tristan James Murrin and his family returned to their Ashbrooke home on the night of August 10, 2017, only to find a scene out of a horror movie; the walls and floors of their second floor were marked with blood almost everywhere.
According to a WRIC report, somebody broke into their house while they were out but the family pet, a big dog, attacked the man and frustrated his intent to rob the belongings of the dog's owners.
"My best friend Oden who is a German shepherd, protected my home and belongings when I wasn't there, I couldn't be more proud of him," said Murrin on a Facebook post where he shared his story.
The family explained that there have been several break-ins in their neighborhood in the last months, but that the person who broke into their home didn't steal anything from them. Of course, thanks to Oden
Murrin, who was the first person to discover the terrifying scene, said, "We didn't see anything wrong nothing at the front door." However, when he began walking upstairs, Murrin knew something was just not right; there were a lot of blood stains.
Judging by the impressive amount of blood stains, the family believes the intruder would have had to receive medical attention soon after the incident. The police are investigating; luckily, it looks like they'll have no problem getting DNA evidence.
"I think the dog did its job. He knew that someone was not supposed to be in my house and no one was home and he knows that he wasn't supposed to be in there and he was doing something that he wasn't supposed to be doing and so he knew to act upon it."
Murrin said that although his German Shepherd is a big dog, this is the first time Oden has been aggressive and home videos show the large animal playing with a young child.
"Such an amazing breed that's why everyone who doesn't have an actual dog should consider on adopting or buying a dog. Please share and like to get the story out,"
Murrin is now sharing their story on social media in hopes it will help investigators to find the intruder.
Please fill in your e-mail so we can share with you our top stories!