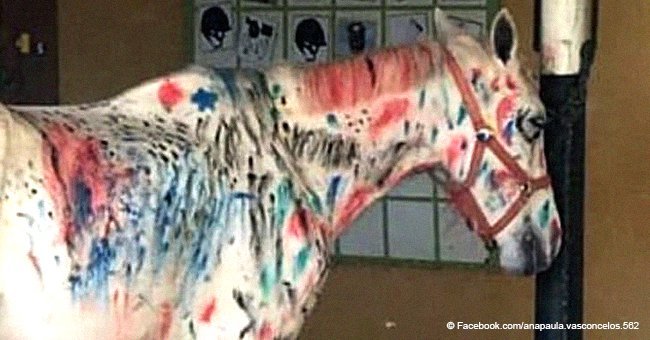 School children used a white horse as a canvas and cause outrage

A South American teacher has caused outrage over the internet after photos of an art project for their class went viral.
Animal rights activists were furious when images of a white horse covered in paint emerged, and even more so when they learned that it was a teacher at the Riding School of the Equestrian Society in Brazil had suggested the idea.
The teacher had decided that it would be fun for the children at the riding school to paint the horse, leaving the poor animal covered in streaks of various colors of paint all over its face and body.
While the riding school's head of communication, Muriell Marques, has claimed the horse was calm and suffered no harm, the internet was not satisfied with the excuse.
NGO Order of Lawyers of Brazil (OAB) got wind of the incident, and have made a rather blunt statement about the actions of the staff who thought this particular brand of "art" would be appropriate.
"They had the brilliant idea of placing the horse as a painting canvas, saying it would be a pedagogical activity. They said it was a rescued horse, but that does not justify the cruelty," member of the NGO Ana Paula Vasconcelos said
Prosecutors for the Brazilian Institute of Environment (Ibama) have since paid a visit to the riding school to evaluate the animal, and have demanded that the authorities at the school must present the plan that justified the actions.
They have also demanded a veterinarian's evaluation of the horse in question. The Institute then plans to issue a verdict on the matter.
The original Facebook post, shared by Vasconcelos, has received over 38,000 reactions, almost 20,000 of which were angry reacts. 38,000 people also shared the post, many with their own harsh words to describe the people behind the plan.
Please fill in your e-mail so we can share with you our top stories!