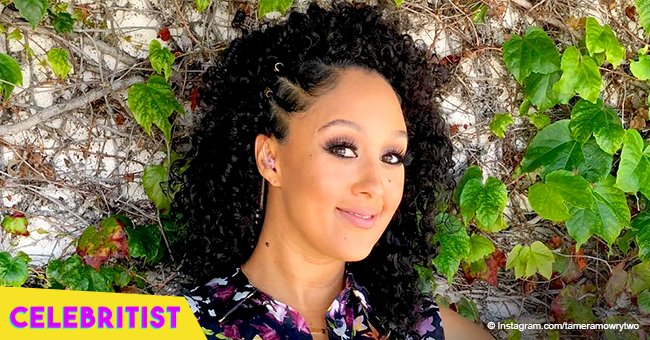 Tamera Mowry stuns in plunging black dress while on vacation with family

Tamera Mowry flaunts her cleavage as she scours the streets of Portugal amid the racial backlash she's receiving stemming from her latest interview about her marriage to Adam Housley.
Tamera Mowry is currently traveling in Portugal, probably taking a break from all the "racial junk" she's been dealing with lately on social media. And while she's at it, she rocks a plunging black mini-dress that takes us back to a time when she strived to lose her pregnancy weight and came out of it victorious.
Tamera looked fashionable as she strolled along a sunny, colorful street in Portugal wearing a hat and sunglasses while flaunting her cleavage in her low cut, thigh-grazing dress. Seemingly in a state of reflection, she wrote the following caption to accompany the photo she shared.
"I've always been an adventurer at heart. I'm so grateful for the gift of travel. The more I travel, obviously I notice differences, however we are all actually more alike than we think. I may not know the language in Portugal, but the universal smile goes a long way here."
Tamera's reflection couldn't be more on point especially after the backlash she's been getting lately for her recent interview about her marriage to Adam Housley which has been criticized in the past for its interracial nature. Speaking to Yahoo's 'It's Love', Tamera and her husband rehashed the wounds brought about by haters who didn't appreciate their union.
"We have a lot of outside things that kind of got in our way. Dealing with racial junk. It was when social media was taking off and it would come directly to us."
While the couple's sentiments hold true for many today, fans felt their statements have become redundant having spoken about it over and over again in the past. As a result, they expressed their annoyance over the issue that's constantly being brought up by Tamera.
"Tamera we honestly don't care. Never have, never will. Your husband is also ugly as shit."
"Tamera Mowry, every time she finds a platform willing to lend her a boom mic to listen to her complain about Black people being "racist" to her actually racist husband"
"I wish Tamera would stop forcing her white husband on me."
"Tamera and her white ass husband always crying about SOMETHING. SHUTUP!"
"Tamera Mowry: My Husband Is WhiteUs: We Don't CareTamera Mowry: Yeah You heard me! IM MARRIED TO A WHITE MANUs: Ok.Tamera Mowry: SWIRL!!!!!!"
It's possible Tamera's views in Portugal may be throwing shade at people's judgment of her marriage. "We are all alike than we think," she writes. Maybe her critics would consider this thought before casting their hate on her.
Please fill in your e-mail so we can share with you our top stories!