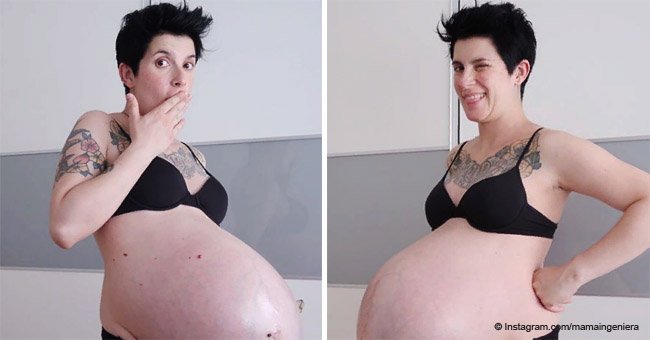 Powerful photos that demonstrate the superpowers of women
Women have always been underestimated in the past by society. The following photos will prove that you can't mess with women and their incredible prowess.
Over the years, things have changed, and women have been acknowledged more and more now that feminism is being fought for by countless people all over the world with the intention of gaining equality.
With the digital age, more women are easily being recognized all around the globe through the Internet. Females have been finally given the credit they deserve. Follow us on Twitter at @amomama_usa for more stories about women empowerment.
These nine photos will make you believe that women have superpowers:
Joining marathons and running in heels
Walking in high heels is a dreaded task for many, but running in them is a whole other level of hardness that requires major proper skills.
Irene Sewell, who is a former ballroom dancer, became a record holder in the Guinness World Record for running 2.62 miles (43 km) at a marathon while in stilettos. Sewell was able to reach the finish line after seven hours and 28 minutes
Being Jane and beating Tarzan at his own game
This girl from West Africa can easily climb cliffs and walls. She makes it look very easy as well. She said her pet monkey, Georgie, taught her how to climb when she was young.
Nowadays, she no longer competes as a professional rock climber, but she spends her time giving motivational talks and she organizes coaching seminars.
Staying fit while taking care of a baby
This mother does yoga classes with her baby and although it is not an easy task, she does it very well.
Being a record-holder as a polar explorer and at the same time, a mother to four kids
Ann Daniels broke records when she became the first woman in all of history to step foot both on both the North and South Poles. At the time of her first polar expedition, she had no prior experience and her triplets were only 18 months old then.
Keeping a youthful and beautiful face no matter what
Even while taking care of a baby or finishing errands, women can still wear beauty masks with ease. As a woman, a beauty ritual is something that should be finished daily, whatever happens.
Refusing to let age dim their shine
At the age of 87, Helen van Winkle became a huge star on Instagram. She became popular after her great-granddaughter posted a picture of her.
Soon enough, she became a viral sensation and has since appeared at big events like the MTV Movie Awards. She has been encouraging lots of women to never let their age hinder anything they set their mind to.
Not letting bullies stop her from protecting the planet.
Nadia decided to pick up trash on her way to school. By the time she arrived, she had already gathered two recycling bins of plastic. When they saw Nadia, her schoolmates made fun of her and called her "Trash Girl."
Despite the bullying, Nadia did not stop caring about the planet's future. She got the acknowledgment she deserved when people made a Facebook support group for her and some of her fans made her a cartoon superhero too.
Being an expert multitasker.
Putting on make-up while breastfeeding is a simple job for women. Science has proven that females are good at multitasking, even better than men. Studies showed they are not easily affected by interference.
Carrying babies for nine months and giving birth.
This may be the most powerful ability of women. Laura – a Spanish blogger and a mother to three kids – posted this picture of her. It was taken four days before she successfully delivered healthy twins.
There are many powerful women all over the world. More and more ladies are becoming vocal about fighting for equality and empowering women. Hopefully, the women above have inspired you. Do you also have superpowers like theirs?
Please fill in your e-mail so we can share with you our top stories!