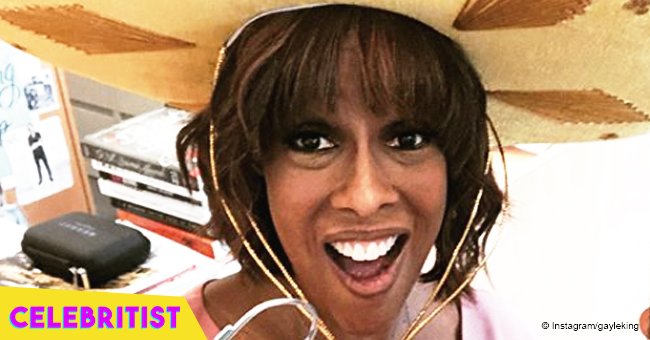 Gayle King stuns in floral, white dress in recent picture with adult daughter and son
Gayle King is enjoying a well-deserved vacation on the Mediterranean, but she seems to be missing her kids a lot, as she took the time to share a series of pics from a week-old event, including one with the good-looking pair.
The CBS "This Morning" co-host seems to be having a great time aboard a luxurious yacht in the company of big names of the industry, like designer Diane von Furstenberg, Karlie Kloss, Harry Styles and other A-listers, for the annual VIP summer-camp-like conference "Google Camp." Prince Harry and Emma Watson have attended the super private in the past as well.
But despite being surrounded by celebrities, King seems to be missing her grown-up children, William Jr. and daughter Kirby Bumpus, as she took to her Instagram account to share a throwback slideshow from the CEO BBQ 2018, which took place a week ago in California.
The event, hosted by Felicia Horowitz and her husband, reunited some other big names of the industry, including Tina Lawson, MC Hammer, Bianca Lawson, Terry Crews and Van Jones. Gayle looked stunning in a sleeveless white dress with a blue and orange pattern that enhanced her curves.
In the slideshow, Gayle posed with some of the stars at the event, but she mentioned on her caption that her favorite picture was the last one, in which she's seen posing with her handsome son and her beautiful daughter.
Fans took to her comment section to share their through on the photo, as Instagram user @raciejaxxI wrote "swiped w/anticipation, "omg, whose on the last pic"?... and then… luv it, of course, so sweet #family" while @melissahudsonlmft added "Love the poolside picture with your favorite son and daughter. Proud, beautiful momma."
Swipe to the right on Gayle's slideshow below to see the gorgeous photo:
Kirby and William Jr. are the product of Gayle's failed marriage to former assistant attorney general William Bumpus. They were together from 1982 to 1993, and King filed for divorce after she found the man in bed with a naked woman.
King opened about the experience in an interview with Vanity Fair, after she was asked who's the person she despites the most in the world. She said:
"Despise" is a strong word. I'm not a huge fan of the woman I caught naked with my now ex-husband on June 24, 1990, at 9:16pm - but I don't remember the details."
After the interview came out, the man issued an official apology to Gayle through a statement he shared to Page Six saying:
"I have been haunted with this life altering choice. Though I have dealt with this privately. I publicly apologize for the major transgression that dramatically changed all of our lives."
And continued:
"Gayle was a great wife, an excellent mother and a fantastic co-parent. I am eternally grateful for all that she has done and continues to do to enrich my life and the lives of our incredible adult children."
The 63-years-old star has stated in several occasions that despite the traumatic experience, she's moved on and is not bitter anymore. She and Bumpus get along for the sake of their children.
Please fill in your e-mail so we can share with you our top stories!