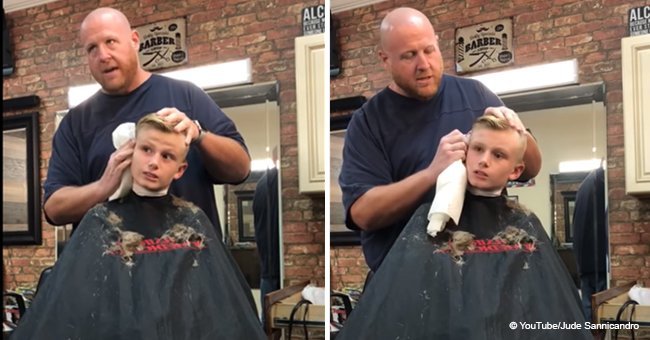 Barber gets incredible revenge on kid who pranked him (video)

In a Youtube video that has gone viral and has garnered over 500,000 views, a barber pulls a rather bloody prank on a 10-year-old boy.
Jude Sannicandro, the owner of 'Hair Medics' in Naples, Florida, has been the family friend and barber of the DiPalma family for decades. It includes the 10-year-old Vito, who visits the shop regularly.
The boy and the barber take great pleasure in exchanging practical jokes. Last month, however, when young Vito planted a fake cockroach in the shop behind the 43-year-old's back, the barber was terrorized.
The fear was intense because earlier that day, he had seen a real cockroach in the bathroom. Sannicandro told Vito that the youngster had opened 'Pandora's box' to which Vito replied that he wasn't scared and that he was too old to cry.
Read similar funny stories on our Twitter account @amomama_usa
Source: Freepik
After getting the approval from the boy's mother, Sannicandro decides to get even with Vito during his next appointment. The whole episode was captured on video and uploaded on Youtube.
In the video, the 43-year-old can be seen cutting Vito's hair with an electric buzzer, he then pretends to nick the boy's right ear.
Vito panicked and asked the barber if he was bleeding to which Sannicandro replied, 'maybe a little bit,' as fake blood ran down DePalma's cheek.
Vito was horrified at the sight of blood and called for his mother as the barber dropped the fake ear on the ground. Vito started crying as his mother rushed in.
At that point, Sannicandro revealed that it was all a joke. He reminded the boy of the cockroach prank he pulled on the barber and how he couldn't make him cry.
The boy protested that he wasn't crying but just shivering, to which his mother called him out and said, "You cried."
Vito seemed to have recovered soon. Sannicandro has been cutting the boy's hair ever since he was a baby. The barber understands that revenge is due but he's not worried and says that he will always outdo Vito.
Please fill in your e-mail so we can share with you our top stories!