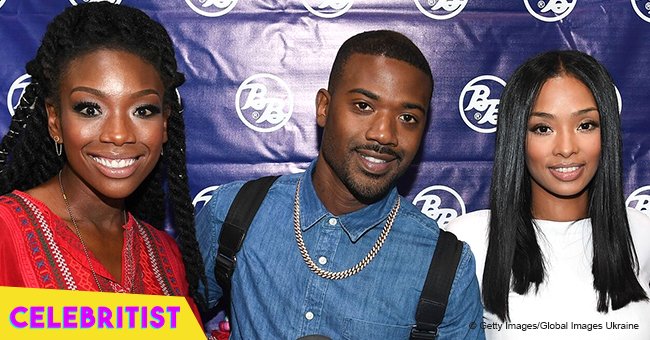 Brandy gets slammed for allegedly involving herself in Ray J and Princess Love's marriage
Brandy's involvement in her brother Ray-J's marital issues is casting her in a bad light. She recently had to defend herself from social media critics who expressed their disapproval. In a series of responses, the singer shrugs off her haters' opinions while defending her brother.
Following Brandy's alleged feud with her sister-in-law, Princess Love, she's now involved in a heated exchange with fans on social media.
The singer posted a selfie with the caption "#BraveLyric's – put some respeck on my name I'm where it started", after which commenter's slammed her for making her brother Ray-J's marital issues her business. One fan wrote,
"Stay out ya brother business. He married her, let him deal with her."
In response, Brandy clapped back.
"you don't know me enough to give me a demand. I don't know you so I can't even take you serious."
A second commenter added,
"Your brother didn't marry you or your mother he married precious so let him handle his own Affairs you guys is f****** up his relationship if I was precious I'd leave all you mother f******."
Brandy fired back and pointed out the glaring fact that the commenter got her sister-in-laws' name wrong.
"her name is Princess. And because you don't know her or her name, your opinion doesn't matter because it's just an opinion - not a fact."
When another hater brought up Ray-J's promiscuous past, Brandy didn't let it slide. Instead, she defended her brother by telling the commenter not to "take someone's past and hold it over their head." Brandy insisted her brother has changed and that his marital problems are nobody's business but his.
Brandy went on to explain that she doesn't always respond to comments but felt the need to do so when people talk when they don't know much.
The Norwood family drama started when Brandy and her mother Sonja Norwood asked for a public apology from Princess who threw shade at Ray-J on social media after she suspected him to be cheating on her. The whole story has been unfolding on their show 'Love & Hip Hop: Hollywood''s current season. Now it seems there's more drama brewing outside of the show with Brandy taking center stage.
Please fill in your e-mail so we can share with you our top stories!