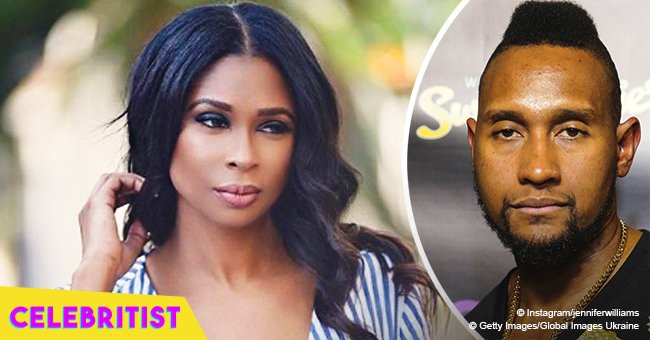 Jennifer Williams gets called a 'big fat liar' after revealing ex, Tim, still stalks her
After claiming that her ex-boyfriend has been stalking her, Jennifer Williams gets slammed by Twitter users for "lying".
On Season 7 of the "Basketball Wives", Jennifer Williams goes to court numerous times to deal with a stalking ex. As previously reported on Madamenoire, that ex who has been stalking her is allegedly Tim Norman of "Welcome to Sweetie Pie's". In the most recent episode, she got emotional about how his alleged behavior has been affecting her greatly. She revealed her thoughts during a couple of the show's confessionals saying:
"I need a permanent restraining order to get this guy out of my life forever. It's taking a toll on me. It's really wearing me down. I haven't been sleeping well. My mind is all over the place. I'm nervous. I still don't want to walk my dog after dark."
Jennifer claims that Tim has even gone so far as to get an apartment near her home, literally on the corner of the street during the month they broke up.
"I'm absolutely still afraid and it's really awful that I can't live my normal life."
While of course, Jennifer's co-stars and family and friends have supported her throughout this whole ordeal, people online have not been as compassionate. After last night's episode, people made sure to let her know that they were not buying her story. Skeptics were quite critical of Jennifer's story, but Jennifer made sure to back up her story with some facts that she placed on Twitter to counter the accusations.
While Jennifer insists that the story is true, Tim told the press that Jennifer is a liar. TMZ previously posted an article sharing Tim's side of the story, which was how he was pressed by "Sweetie Pie" producers to propose to his then girlfriend. When he chose not to, she became upset. He even goes so far as to accuse his ex-girlfriend of trying to run over him with her car and slashing his tires. To add to these accusations, he claims she even stole money from him after she got upset that he wouldn't help fund her business dealings.
This entire mess definitely isn't going to die down any time soon, especially since both parties have been granted temporary restraining orders against each other. While fans are still puzzled as to who is telling the truth, they just have to wait and see how the story unfolds from here on forward.
Please fill in your e-mail so we can share with you our top stories!