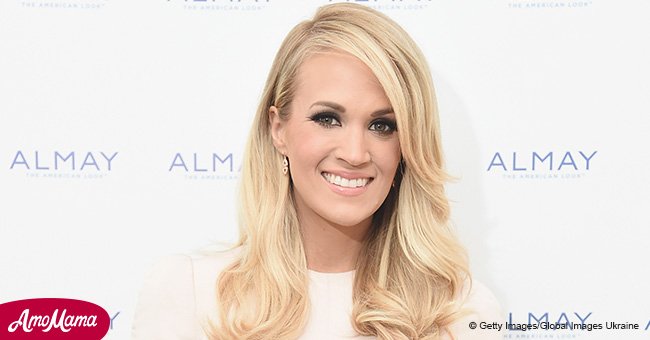 Carrie Underwood wows fans with her famous long legs in a new pic
Country singer Carrie Underwood is in preparation to return as the face of NBC's Sunday Night Football. On Monday, NBC Sports shared an image of the star on set.
In the Twitter image, the singer could be seen showcasing her slim body and famous long and toned legs in tights. The sports network revealed that the musician would be joined by NFL stars for the opening show.
NBC Sports shared a picture of Carrie Underwood showing off her toned legs as the face of Sunday Night Football (SNF). She was filming the upcoming introduction video for the impending 2018/19 season.
NBC Sports revealed the on-set image of the star ahead of the kick-off football game of the new season on September 6. The Atlanta Falcons are set to take on the Philadelphia Eagles this week.
For more on this story go to our Twitter account @amomama_usa. In the photo, Underwood was seen wearing black tight shiny leggings.
The star wore a simple white top which was tied at her waist. Her outfit was accessorized with a black cropped jacket and two long necklaces.
'NFL Stars to Join @carrieunderwood in New Show Open for NBC's Sunday Night Football: https://wp.me/p2Ou29-fY6 @SNFonNBC'
NBC Sports, Twitter, July 30, 2018
Sticking to the black theme, she raised her height with black cut out heels. Her blonde hair was styled down to her waist after she had previously sported a bob for a few years.
The network also confirmed that a few big names would be joining Underwood in the new opening. Athletes that would be appearing in the video include Seattle Seahawks Quarterback Russell Wilson, Los Angeles Rams Quarterback Jared Goff, and Dallas Cowboys Quarterback Dak Prescott.
The picture from the set comes shortly after NBC first shared images from the upcoming opening sequence. One of the photos showed Underwood giving fans an even better glimpse at her toned legs in short shorts.
The images showed the star wearing a glamorous black leather playsuit in one photo. She accessorized with black boots and a chunky silver belt.
Underwood was seen front and center dancing with a number of football cheerleaders who were in the background. On June 20, SNF producers confirmed that the country singer would be back for another year.
They captioned the post, 'We're filming with our good friend @carrieunderwood in LA this week for this season's #SNF open! Who's ready for Sunday Night to be Football Night again?!'
Underwood, who is a mother to Isaiah, 3, will be the face of SNF for the sixth consecutive season. She took over the role from fellow country star Faith Hill.
Please fill in your e-mail so we can share with you our top stories!