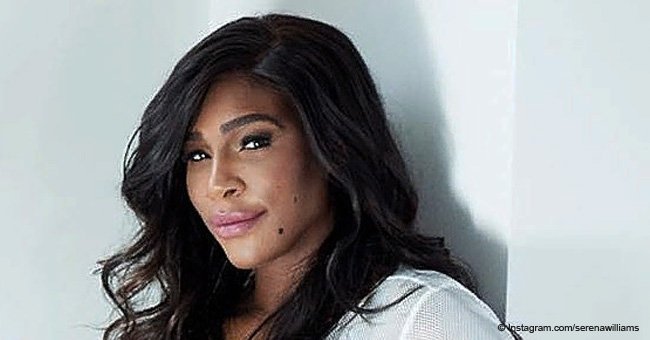 Serena Williams steals hearts sharing photo of daughter in nurse outfit with full head of hair
Serena Williams, one of the best tennis players in history, took to Instagram to share a photo of her daughter, baby Olympia Ohanian, wearing a nurse shirt.
In the image, the girl is portrayed looking directly at the camera with her mouth and eyes open as if she was ready to say something. Her white shirt had a red cross printed on it and the following message: 'Relax. My aunt's a nurse.'
One of the most striking aspects of the image was Olympia's head which was full of hair, a fact that made her look beautiful. In the caption, Serena pointed out that her daughter was helping her and that the shirt was a gift from her aunt Amy.
Even though the post has gotten more than 220,000, it doesn't have any comment as Serena blocked that feature
While she hasn't clarified why she did so, the most likely possibility is that Serena was trying to protect her daughter from negative comments that people might write about her after a recent incident her husband Alexis had on Twitter.
It started when a Twitter user named Lacy McMullen Jr. uploaded a meme that compared a photo of Alexis holding Serena on his arms with one showing a member of the Ku Klux Klan holding a black woman on his arms.
Lacy added the message: 'when you forget who you are, you too forget who they are,' which was a clear way to express his discomfort over interracial marriage and relationships. As a way to defend their relationship, Alexis replied by adding a link to a Wikipedia entry about the Armenian Genocide.
Alexis' father, Chris Ohanian, is of Armenian descent whose grandparents fled to the US following the historic massacre. However, more people took to Twitter to attack Alexis, saying that Armenians initiated the conflict and that Reddit, the company he co-founded, was one of the most racist discussion websites.
While the couple might get a lot of backlash over their interracial relationship, they always try their best to share nothing but love with Olympia.
Please fill in your e-mail so we can share with you our top stories!