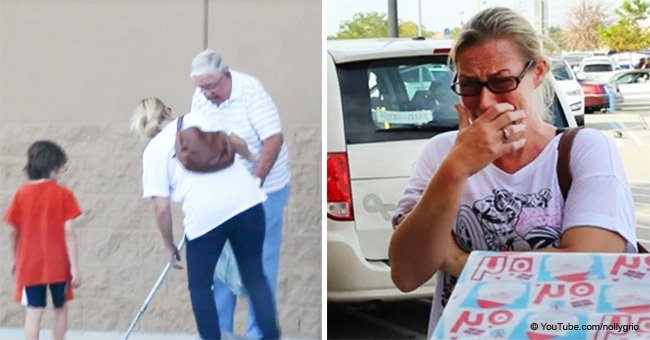 Mom helps veteran after he 'drops' groceries outside Walmart, soon realizes he tricked her
A mother-son duo of Melissa Whittington and Peter learned the true story of the World War II veteran, Bill Greenham, who dropped his grocery bag on purpose.
Nollygrio shared a heartwarming video on YouTube about what actually transpired on December 22, 2015, in North Port, Florida.
89-year-old Greenham needed a little help on a bright and sunny day. He was out shopping when his bags gave out, spilling all the items on the concrete flooring just in front of the store.
Read more on our Twitter account @amomama_usa
The veteran, who relied on a cane for walking, needed help picking up his scattered belongings. He waited for someone to come to his rescue.
Soon, help arrived in the form of Melissa Whittington and her stepson Phillip. Before they could enter the store, they stopped, picked up Greenham's items and checked if he needed anything else.
They soon got talking and Whittington told the veteran that it had been a rough year for her family. Though it was Phillip's birthday a few days earlier, she did not even have a gift for him.
All this, the mother-son dup had no idea that it was all part of a ploy to identify some random acts of kindness and reward the people.
Greenham was indeed a veteran, who was planted as a volunteer in front of the busy story by the North Port Police Department.
A few officers were watching the action unfold from their squad car after they had installed cameras and microphones in the parking lot.
As they talked about life, Greenham asked her to wait a little longer. Without revealing to Whittington, the hidden elves of the department were busy in finding a suitable gift for the boy.
She told another bystander, who was also planted, that the family could not afford to buy a present for their son. The Christmas time also meant buying gifts, but it was incredibly difficult for her and her family.
The elves hoped that they could make the Christmas a memorable one for the family – one they could only dream of.
When the volunteers of the department's Operation Santa Surprise revealed themselves with a gift for Phillip, Whittington was in tears at the special gesture.
Please fill in your e-mail so we can share with you our top stories!