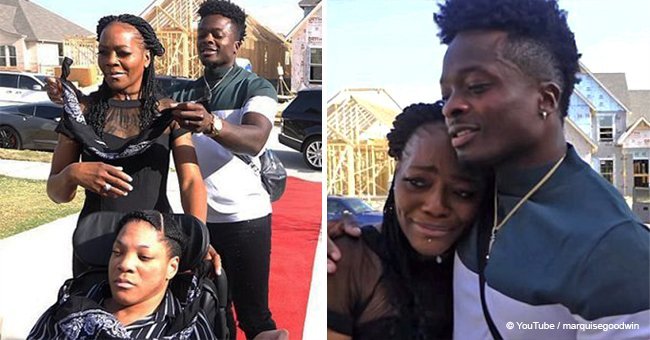 Star footballer surprises mom and disabled sister with stunning $20 million house

The football star had just announced that he had signed a multi-million dollar contract, and he knew just what he needed to do with some of that money to help two people dear to his heart.
San Francisco 49ers player Marquise Goodwin has been rewarded for his athleticism with a 3-year $20 million contract from the Californian team, and decided that there was someone in his life who could use so of that.
Rather than bying himself luxury cars, a lavish mansion, or spending it on holidays or expensive clothing, he decided his mother, Tamina Goodwin, and younger sister, Deja, needed a new home to live in.
Deja suffers from cerebral palsy, and Tamina was told when her daughter was born that she would not live past 6 months. She has, but she is wheelchair bound and requires special care.
So Marquise decided to use some of his newfound wealth to buy his mother and sister a new house, and decided to give them a surprise reveal.
He shared a clip of the reveal to his Instagram account, and it started with both Tamina and Deja blindfolded in the driveway of a house.
The moment Marquise removes the blindfold from his mother's eyes, her joy and disbelief are immediately visible. She looks at her son in shock, before throwing her hand over her mouth.
After a few moments of disbelief and trying to choke back the tears threatening to stream down her face, Tamina could do nothing more but hug her son in gratitude at the amazing gift.
Marquise is especially close with his mother and sister after the family suffered an awful loss. Marquise wife, Morgan, suffered a miscarriage of their son, and not a month later Marquise's father passed away.
Tamina and Deja have been a great source of comfort to him during the difficult times, and he shared that Deja has even been a major source of inspiration for him.
"If Deja wasn't my sister, I feel like I would still be motivated but not in the way that I am today. Having a disabled sister, that's a lot more motivation, especially when she tells you growing up that she wishes she can be out there with the kids playing and she wishes she can be out there running around," he said.
Please fill in your e-mail so we can share with you our top stories!