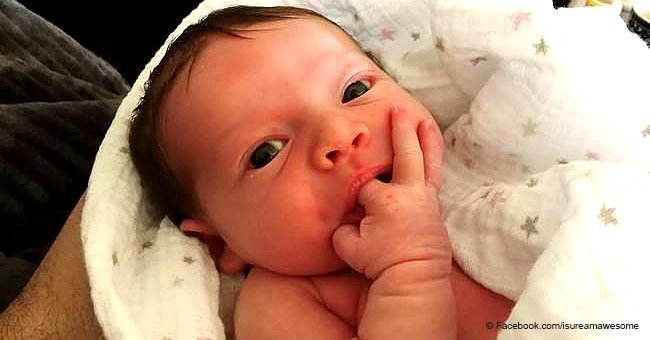 Dad's heartbreaking warning to all new parents after baby dies from herpes
A month after his baby passed away from herpes, Jeff Gober spoke up and encouraged other parents to always wash their hands every time they are around a newborn baby.
An emotional Gober, based in Phoenix, shared his story to Love What Matters and talked about losing his daughter, Mallory, after only a few weeks since her birth.
He revealed that baby Mallory had contracted herpes simplex virus-1 (HSV-1) when she was only a few days old.
Although the virus is very common in humans, it can be deadly for newborns.
Follow us on Twitter at AmoMama USA for more stories like this.
Gober said he and his wife, Natasha, were puzzled with the results of Mallory's diagnosis since she was not held by anyone with cold sores, and she also wasn't kissed on the mouth.
He said that Mallory had a high fever during the first week. Eventually, she developed blisters. By that point, they knew antivirals were not going to be effective anymore.
Gober suggested that Mallory contracted HSV-1 with her hands. During her short life, the baby had her hands on her eyes and mouth most of the time.
"She was constantly sucking on her fingers, so it's almost certain that the virus got onto her hands at some point," he said.
With the anti-viral medication being ineffective, the couple had to watch as their daughter died slowly in a span of two weeks.
Gober has expressed his regrets over their negligence in proper hygiene. He went on to warn other parents and expressed the importance of washing their hands, which could help in saving their children's lives.
"If you have a new baby, or will be around a new baby, wash your hands," said Gober.
HSV-1 is an extremely common virus and according to the World Health Organization, around 67% of all humans in the world are infected. Most of the affected ones will never even know that they have it.
Please fill in your e-mail so we can share with you our top stories!