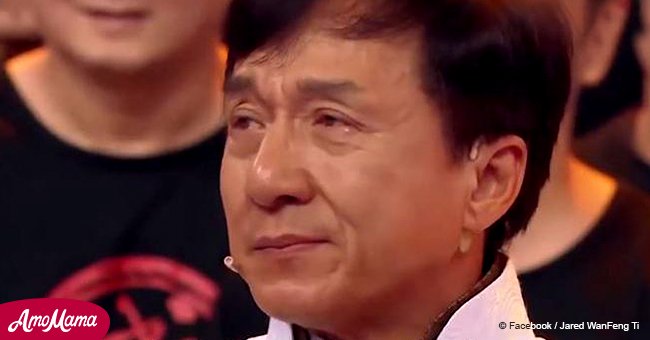 Jackie Chan moved to tears during surprise reunion with his original stunt team
The video of the emotional reunion, which took place in 2017, soon after the 64-year-old received an Honorary Oscar, was later shared on Facebook, and it became a viral sensation.
With a career that spans more than 40 years, Jackie Chan has become one of the most loved actors by the audience, and of course, by all the technical team that has worked with him.
So, what better way to celebrate his achievements and worldwide recognition of this star from Hong Kong than with a big surprise on one of the most important Chinese television shows, The Negotiator. Read more on our Twitter account @amomama_usa
Chan could not hold back the tears when he met the first generation of his stunt team, who were by his side when he was barely making his name as a martial arts star, long before he became China's most famous actor.
When he appeared on the set, he did not imagine that his stunt doubles were present. The host asked him how he felt when he saw the pictures of his action doubles next to him on the video montage that was put together for him.
He replied that he missed his 'brothers' very much, just as the oldest members of the team quietly gather behind him to take him by surprise.
In the feature that introduced his body doubles, the stunt professionals talk about the hardships and the values of their trade, sharing that there were many times when they ended up in the hospital after shooting a scene.
The Rush Hour actor was in the middle of a heartfelt speech when he turned around and recognized his long-time partners, who shouted 'brother' at him before joining him in a group hug.
'For forty years we've been through thick and thin. Fractures bones, broken limbs. Sent to hospital at 5 or 6 in the morning. No one sees that at the [movie] theatre. Even as I receive the Honorary Oscar today, it is shared among us,' he said.
Please fill in your e-mail so we can share with you our top stories!