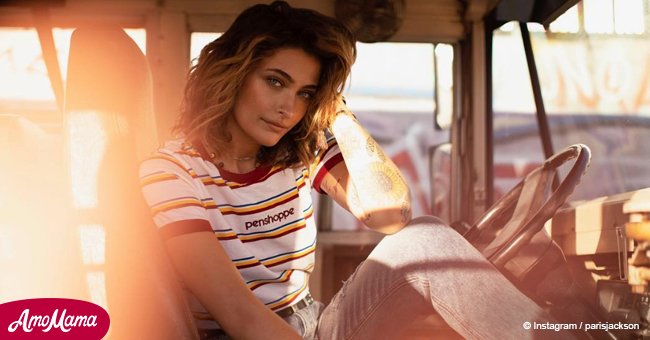 TMZ: Paris Jackson hires armed guard after actor allegedly choked her

Paris Jackson, Michael Jackson's eldest child, has allegedly moved from her house and hired armed guards after being grabbed by the throat by actor Isaac Kappy.
It seems that the incident might have taken place in July, during a game party, and that Paris was so scared that she blocked Kappy's number and hired armed protection that accompanies her on a daily basis.
The story was shared by TMZ, which claims that the Paris felt threatened after Kappy kept sent her text messages that were reportedly frightening.
Initially, Jackson answered Kappy because she feared he was suicidal and wanted to be there for him, offering him her support, but things didn't turn out that way.
Please consider following us on our Twitter account @amomama_usa to learn more.
According to the news outlet, Kappy's messages were very similar to the letters that he sent to Seth Green and his wife, Claire - with a loving and caring tone but also unhinged.
In one of the letters, Kappy wrote: "first off, I need you guys to know that I love you very much and care about you deeply. Please know that I wouldn't do anything to harm you", and went on to say that he had setup a 'series of triggering events if he ever met an 'ultimate demise.'
Last Week, on Wednesday, July 25, TMZ also reported that Kappy has been repeatedly accusing Green, who currently voices Chis Griffin on Family Guy, of being a pedophile.
A police investigation is currently underway after Kappy threatened a shootout with the police in a tweet following the news that he was harassing Seth and Claire, as well as his allegedly violent actions against Jackson.
The actor said that, although he supported peaceful disclosure, he had the necessary tools to respond with violence, threatening that he would use a .50 caliber to shoot up Hollywood Hills.
On August 1, Kappy also stated that he hadn't seen Jackson in over a year, hinting that he never attacked her, although the story is still being investigated.
Please fill in your e-mail so we can share with you our top stories!