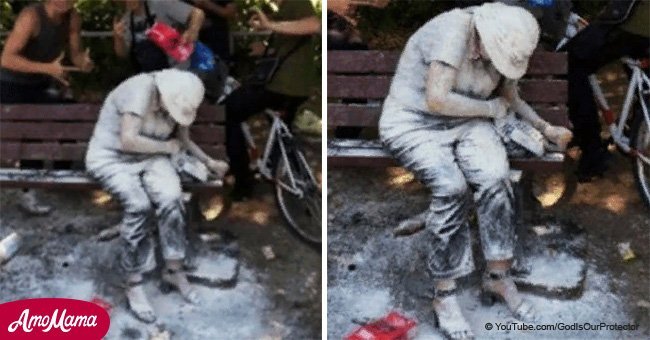 Stepmother defends one of the boys who attacked disabled woman with flour and eggs
A mother of one of the five boys, who were arrested for attacking a vulnerable woman with eggs and flour to post the video on their social media, is now speaking out for her son.
The stepmother of one of the boys complained to The Sun that leaking her son's name in the incident has ruined his personal life, especially his upcoming sixteenth birthday.
"My son's name has been leaked over the internet and we've had threats. I reported the abuse to police and we're under their protection. This isn't what we need. It's my son's 16th birthday and we've got family here for his party," she told the online source.
The families of the teenage boys were forced to ask for police protection after the photograph of them attacking the old lady, who seems to be helplessly cowering and fending off the attack, got circulated online.
Follow us on Twitter to learn more.
People have been furious at the photograph and they have dubbed the young boys as "thugs" and "yobs." Furthermore, they have received several death threats following their names being leaked out.
Following the official confirmation from the police department that they were safeguarding the However, now a majority of people in the local community are criticizing the police force for protecting people who were involved in the inhumane treatment of the elderly lady.
36-year-old Stuart Blowers told The Sun that he considered the police authorities to be nothing more but a joke in this matter. "It is disgusting that they are going to get police protection after what they did to that lady," he stated.
However, acting Detective Superintendent Barry Byford has defended the action of the law enforcement officers and declared that they were not going to support "vigilantism" in "any way, shape, or form."
Detective Byford also warned the social media users that sharing names or images that may interfere, "disrupt or jeopardize" the case can later form part of a criminal investigation.
Please fill in your e-mail so we can share with you our top stories!