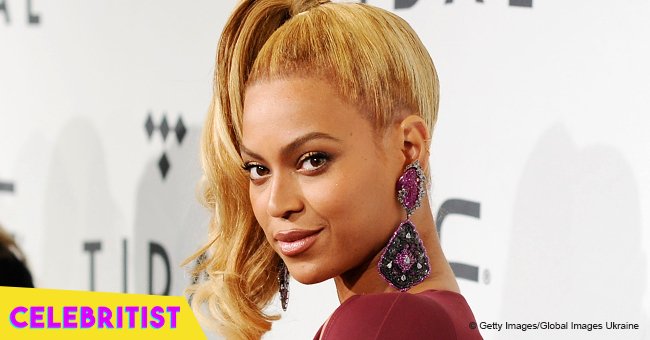 Beyoncé flaunts curly hair while 'making fish lips' in funny video with close friend
The American singer, songwriter, dancer, actress, and businesswoman has recently returned to the United States after enjoying her tour in Europe over the summer.
Beyonce is back State-side on her tour, and met up with an old friend who she met when she was just 19 years old. The friend, Mally Roncal, took to her Instagram account with a cute video of the two of them together.
Unfortunately for the Queen Bee, it seems as though she was unaware that her friend was shooting a video. Instead, the Lemonade singer stood over her friend's shoulder making "fish lips" waiting for the flash.
As the clip started, Roncal said: "She's the most beautiful woman on the planet," at which point Beyonce realized that she was in a video.
At which point the singer quickly snapped back her lips and responded with "oh wait, this is a video?" Roncal couldn't contain her laughter for a moment there, while Beyonce sheepishly confessed to having been making fish lips.
In the clip, both women wore white shirts. Beyonce had her long blonde curly hair pulled back into a high ponytail and cascading down over her shoulders, and had on glittery pink eyeshadow. Roncal had her long straight blonde hair hanging loose.
The pair signed off because the busy Bey needed to get back to work. Roncal wrote as part of her caption:
"@BEYONCE I love you. There are no words to describe how priceless our friendship is to me. I met this Other Worldly Earth Angel when she was 19 years old and now, two marriages, 6 kids, countless makeup sessions, photo/video shoots, award ceremonies and 16 years between us, every time is see you it's like yesterday! Thank you for loving, kind, silly, inspiring spirit. I love you!"
Roncal's video was watched over 230,000 times, and was regrammed by The Shade Room where it has been viewed almost 2 million times.
While Beyonce was on tour in Europe, her husband Jay-Z, eldest child Blue Ivy, and 1-year-old twins Sir and Rumi joined her, making a holiday of her downtime between shows and practices.
One photo, snapped in Cannes, South of France, showed Beyonce, Jay-Z, and Blue Ivy walking poolside.
Blue opted for denim shorts and a green and yellow swimsuit top. She had on a pair of black shoes as well. Jay-Z was wearing a simple yet stylish ensemble as he put on a pair of white pants and a white shirt, as well as a red bandana and black sunglasses.
Beyoncé opted for a loose red, Dolce & Gabbana maxi dress that had a zebra and tropical fruit pattern all over it. It featured long, flowing sleeves, and a v-neck that had her bust half bursting out of the top of the garment.
Another sweet shot showed Beyonce and her daughter "twinning" as they sat on the lounger of a boat.
In the image, the mother daughter duo appeared to be wearing matching pink and white loose beach dresses. There were a few differences to their dresses though.
Beyonce's had a darker pink trim around her neck and sleeves and down her chest, while Blue's trim around her hemline was white, and around her neck was brown and tan. Her sleeves were also shorter than her mother's.
The singer also added a number of gold accessories to her outfit that her daughter didn't have. Blue also had her hair tied up in two distinct ponytails, while Beyonce's blonde curls were left to their own devices.
While Beyonce has been on top of the world for some years now with her incredibly successful career, she hasn't always been the most confident person among her peers.
In a throwback video shared by her mother, Tina Lawson, Beyonce explains how shy she was with other children, and how she struggled to relate to them.
"I was really shy and I did not speak much," Beyoncé narrated over the video clip. "I was more comfortable with adults because my mother owned a hair salon, and I stayed in her salon, and I was in grown people's business all day and I listened to their conversations. When I got on stage, my mother put me in dance lessons, and I really loved it. I think when they saw me perform, they were like, 'Man, she's in heaven."
Please fill in your e-mail so we can share with you our top stories!