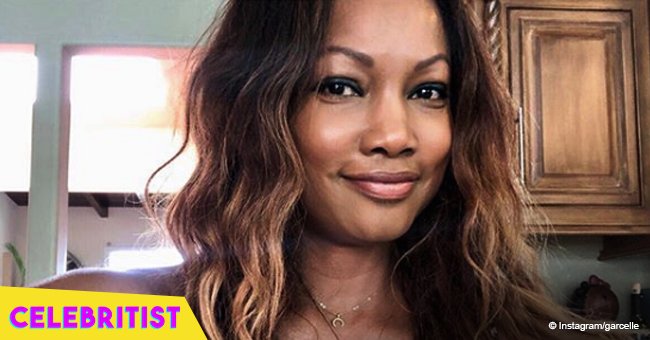 Garcelle Beauvais' sons rock curly hair and wide smiles in recent picture with mom
The actress stunned fans after sharing an adorable photo of her 10-years-old kids. The adorable biracial boys are the product of Garcelle's failed marriage to cheating ex-husband, Michael Nilon.
Garcelle Beauvais is looking incredible at 51, and her boys are not the little tots that the public once knew. The twins, Jax Joseph Nilon and Jaid Thomas Nilon, who seem to look more like their father, are already stealing hearts left and right all over their mother's Instagram account.
On a recent picture shared by Beauvais, the boys are rocking curly hair as they smile next to the actress in front of a backdrop with printed butterflies on it. The pic served to capture the family's reunion, as Garcelle was away from her boys because of work.
She expressed her happiness as she wrote in her caption:
"Reunited and it feels so good #homesweethome #JaxandJaid #familytime #workingmom #timeapart #qualitytime #sushinight"
Last year, Garcelle earned the title of "cool mom" for her children after she got a role on Marvel's superhero movie "Spider-man: Homecoming." Speaking to the Atlanta Black Star at the premiere of the movie, the star revealed how important was the project for her and her family, saying:
"It means everything to me on so many levels. First of all, Marvel, who does not know Marvel? Who wouldn't want to be in the Marvel or die to become a part of the franchise? That is really amazing and a dream come true. But the icing on the cake is to be part of a project that my kids are excited about and can actually see. We've seen it twice already."
Back in 2010, Garcelle made it to the headlines for months and not because of her talent or hard work. After she found out her husband of nine years had been cheating on her for five, the enraged actress decided to shame the man publicly and sent an email to some of her colleagues.
In the email, which according to the New York Post had the subject line "Tiger Woods/Jesse James/Mike Nilon," the actress wrote:
"What do they have in common … I found out today that MY husband of almost 9 yrs has been having an affair for 5 yrs with some [expletive] in Chicago. I am devastated!!!! And I have been duped!! Our boys don't deserve this!"
The twins were 2-year-old at the time, and while Beauvais raise the twins alone for most of their childhood, it seems like now she's on a good place with her cheating ex-husband, as she took to Instagram on Father's Day to congratulate him.
She shared a pic of the man walking next to the twins, only showing their backs, and wrote in her caption:
"#happyfathersday @mcnilon thx for being a great dad to our boys! Together we are raising them to be respectful, kind compassionate loving young men #coparenting #kidsfirst #familyalways #jaxandjaid"
It is a good thing that despite their differences, the former couple came to an agreement in order to raise their boys under a loving family.
Please fill in your e-mail so we can share with you our top stories!