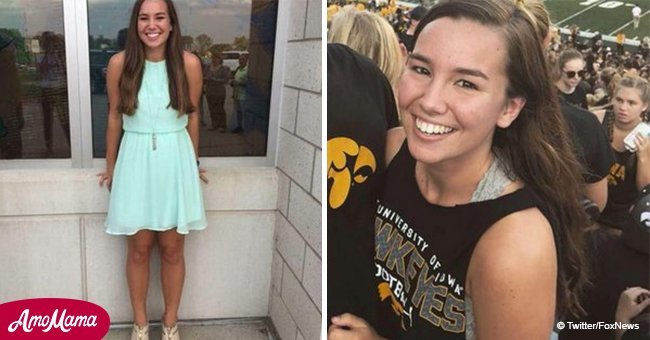 20-year-old college student is missing in Iowa - and she isn't the only one
20-year-old Mollie Tibbetts has gone missing in Iowa along with 48 other young people who have disappeared in the state in July this year.
According to ABC News, the police authorities are not yet able to explain the mysterious disappearance of the college student. She has not been seen ever since she left for an evening jog from a Brooklyn house, where she was dog sitting with her boyfriend.
"She might have a FitBit on and she might have her cell phone, but obviously we've tried just calling her but it's either off or dead so it would go straight to voicemail," her boyfriend Dalton Jack told the source.
Jack also told the source that Tibbets sent him a routine photo on Snapchat on the night she went missing.
Follow us on Twitter to learn more.
Officials have used helicopters to search over the area, which is largely farmland. Over hundreds of volunteers have searched across acres of barns, dirt roads, and cornfields on Friday and Saturday.
Her aunt Kim Calderwood also told WOI that Tibbets was not the type of person who could go missing for days without informing anyone. "She's a very responsible and conscientious young woman," she told.
The online source confirmed that at the time of her disappearance, Tibbetts was wearing running shorts, a black sports bra, and running shoes. She has a build of 120 pounds and her height is about 5 feet, 2 inches. She has long brown hair and brown eyes.
Tibbett is only one of the several other people who has gone missing last month. The Argus Leader report suggested that the Iowa Department of Public Safety received several calls about the missing person statistics since Tibbetts' disappearance.
A statistics from WQAD also suggested that around 4,311 young people were reported missing to The Missing Person Information Clearinghouse last year. This averaged to 12 missing people per day.
However, they later stated that not all missing reports are cases of kidnappings or human trafficking. Many missing people are returned home safely within 24 hours.
Please fill in your e-mail so we can share with you our top stories!