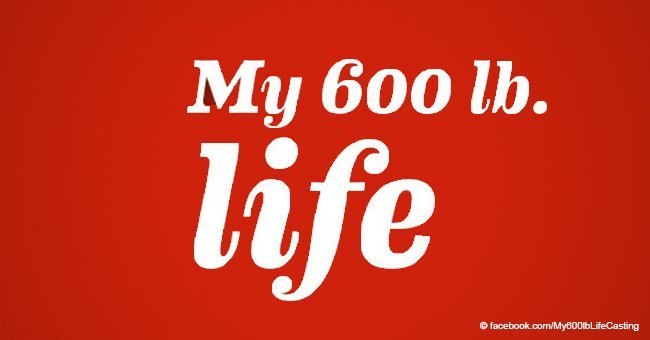 Star of 'My 600-lb Life' was found dead from a gunshot wound. Police investigates.
Reality show star was found dead in a ditch of a bullet wound
Police found the 30-year-old man while patrolling a park in Lexington, South Carolina on the 4th od August 2018. He was lying in a ditch and had suffered a gunshot wound, reported TMZ
The man was later identified as L.B. Bonner, a star of the show "My 600-lb Life" last season. The program had followed Bonner's fight to reduce his weight from that 642 pounds, which he succeeded by dropping an incredible 316 pounds.
After his participation in the show ended, Bonner continued his weight loss and appeared to have embraced a new way of life.
On the 3rd of August, he had posted a cryptic message at midnight extolling followers to: "Please don't ever let people you care about not know how you feel...."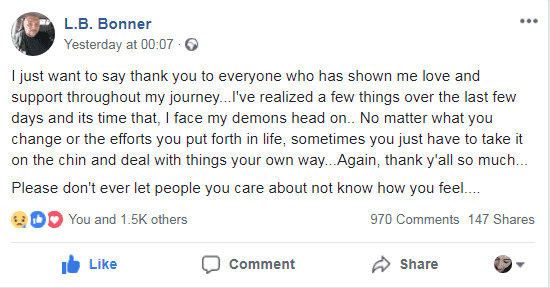 Source: Facebook
I just want to say thank you to everyone who has shown me love and support throughout my journey...I've realized a few things over the last few days and its time that, I face my demons head on.
L.B. Bonner, Facebook, 3rd of August 2018.
Bonner was morbidly obese from childhood, tipping the scales at 150lbs when he was just 8 years old.
Bonner had been adopted by a family who desperately wanted a child and was spoiled with food by his Aunt Dora. Bonner admitted that he used food as a coping mechanism after his aunt died of cancer right before his ninth birthday,
From then on, his weight snowballed, and at 25 he had to amputate his right leg following an ATV accident.
He was recruited to participate in the TLC show "My 600-lb Life" which follows the medical journeys of morbidly obese people as they attempt to save their own lives.
The show helps the participants to confront lifelong emotional and physical struggles. They then undergo high-risk gastric bypass surgery in order to lose weight.
The aim is to help the participants to reclaim their independence, mend relationships with friends and family, and renew their feelings of self-worth.
Bonner was one of the great successes of the show, but as he said in his last post on Facebook, he had to "face my demons head on."
Police are still investigating and have not yet ruled Bonner's death a suicide, but investigators admit there is no indication of foul play or persons of interest under investigation.
Please fill in your e-mail so we can share with you our top stories!