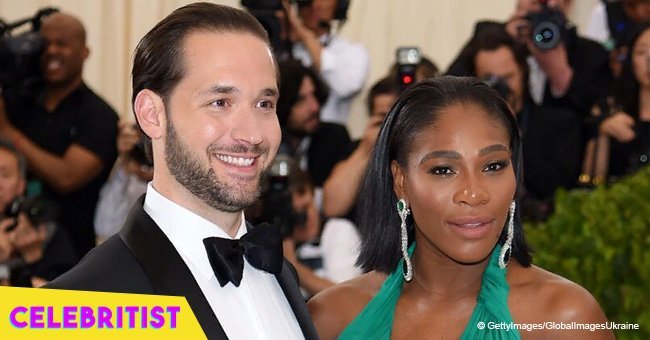 Serena Williams faced backlash over her interracial marriage
Serena Williams and her family were invited to the royal wedding that took place in May and she excitedly took photos to share with her fans.
As has become the norm when a celebrity posts a photo, some keyboard warriors (or cowards) found all sorts of faults with the Ohanians.
Serena and her husband Alexis Ohanian were among the 600 guests invited to celebrate Megan Markle and Prince Harry's union on Saturday at St George's Chapel in Windsor.
The couple looked radiant and in love, and they were captured goofing around more than once.
The couple stepped out in style too.
Serena wore a form-fitting pale pink Versace dress that she matched with pointy-toed stilettos. She accessorized with a statement Bulgari necklace, carried a white box-like clutch bag and had her hair in braids.
Her husband looked dapper in a three-piece suit complete with pinstripe pants that covered red, white and blue patriotic socks.
Beautiful as they looked, some people found fault with their relationship.
It all started with a photo that the tennis champion posted that she captioned, "My king." (with the emoji of a crown)
While fans thought they looked lovely, a few hateful souls split bile all over the comments section.
As if that was not enough, one commenter – Kirei P - found fault in everything that Serena represented:
There's nothing classy or feminine about her. She never wears class and basically makes it a point to do whatever she wants to do. Like have Neanderthal eyebrows and wear Beyoncé formation braids to a f*cking royal wedding. People won't call her Donkey Kong if she stopped acting primitive."
Another hater sosa 709 wrote:
cause u can't handle a strong black Man. U want to b the agressor so u crossed over
Luckily, for every hater, a fan of the couple presented an opposing – and positive – opinion.
Well, we guess the haters didn't catch a word of Bishop Michael Curry's sermon at the royal wedding. Too bad!
Talk to us in the comments section.
Please fill in your e-mail so we can share with you our top stories!