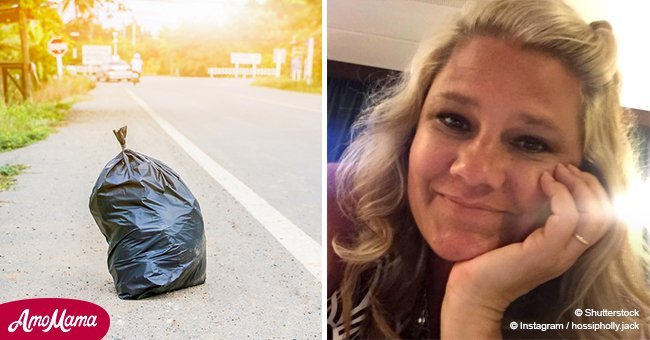 Woman spots a 'moving' garbage bag on the road and makes a surprising discovery

A woman driving down the road came across a garbage bag that seemed to be walking. The bag wasn't being blown by the wind as there was none at the time.
Malissa Sergent Lewis was driving on her way to work when she saw a shocking sight. A black garbage bag was 'walking' down the road.
Being curious about the bag's contents, Lewis decided to investigate it. It was by luck that someone who's caring like her had come along at just the right time.
Read more on our Twitter account @amomama_usa.
Driving on the backroads, the elementary school teacher couldn't believe what she was seeing. She instantly began filming the strange sighting on her phone and decided to investigate further.
Lewis knew that whatever was in the bag could be dangerous, but she had no choice. She had to know what was inside, after all, it could even be a person.
As she got closer to the bag it began to walk towards her, like it sensed that someone was nearby. Bravely and carefully, Lewis opened the bag to see what was inside, praying that it wasn't a vicious creature.
"I saw this trash bag in the road, and I thought to myself, 'Did I just see that bag move?' The closer I got, I realized it was moving; I could hardly wrap my mind around that. Something was alive in that bag, and I just knew I had to get whatever it was out."
Malissa Sergent Lewis, Happiest, December 7, 2017
But to her amazement, inside was a tiny, beautiful black puppy. The puppy was clearly happy to see her as it wagged its tail. He had no collar or other identification so she took him with her to work.
She then posted on Facebook to appeal to anyone who may have information regarding the mistreated pup. Lewis asked that its owner come forward and called the person who'd thrown the dog away like trash a scoundrel and a sick person.
After a veterinary examination, they determined that the puppy was no older than eight weeks old.
Luckily, he was healthy and whoever had dumped the dog in a trash bag hadn't harmed it beforehand. Lewis quickly fell in love with the gorgeous puppy and decided to adopt him, naming him Hefty.
She shared that her family loved the puppy. Hefty's rescuer also revealed that the dog was going to be loved, and have a good home with them.
Lewis said she was glad that she was in the right place at the right time to save him. The authorities were still unsure as to what had happened to Hefty to be put in such a position.
But they were looking into it with the hopes of finding his abuser and bringing them to justice. For now, though, Hefty lives safely with Lewis and her family. Hefty has proved that every dog does indeed get his day!
Please fill in your e-mail so we can share with you our top stories!