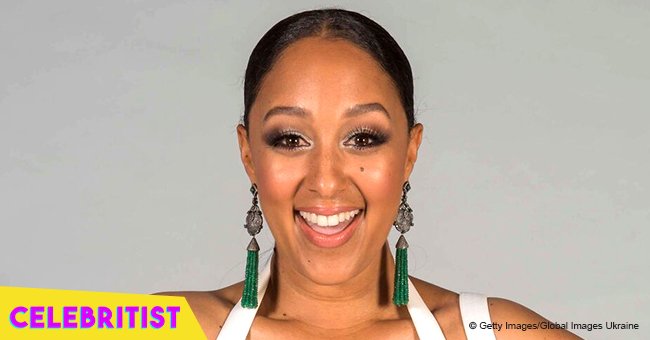 Tamera Mowry steals hearts with photo of husband holding laughing daughter above his head
Actress and host Tamera Mowry, best known for The Real, took to Instagram to share a photo of her husband Adam Housley playing with her daughter Ariah.
In the photo, Adam was portrayed wearing a blue shirt while holding Ariah above his head. The three-year-old girl was wearing a blue and pink top, as well as white shorts. One of the most striking aspects of the picture was how happy Ariah looked.
For the caption, Tamera explained that after being on a train ride to Madrid for two-and-a-half hours and waiting forty-five minutes for the taxi because they went on strike that day, her daughter was still smiling.
The actress added that even though her children had the normal tantrums and meltdowns during the trip, they surprised her a lot.
"They are genuinely interested in the things we are seeing. It's so beautiful to see them and explore through their eyes," said Tamera.
Later, she thanked Adam for being the "best parenting partner" and even urged her fans and followers not to be afraid of traveling with their children as all they have to do is take toys and snacks with them, so the little ones stay busy the entire time.
As soon as Tamera uploaded that photo, her followers took to the comment section to share their thoughts. One of them was Instagram user Kimberly Williams, who pointed out that Ariah was Adam's little girl and that the image showed the look of love.
User Naomi Patricia chimed in and said that the girl was Tamera's "mini-me" as she looked exactly like her. Naomi even wondered why the host thought that her daughter looked more like Adam.
That user said so because, during an episode of The Real released in early June, Tamera confessed that though Ariah has brown skin and black hair, the girl's head was big as Adam's.
Tamera even revealed that Loni Love, one of the co-hosts of The Real, visited her on her house and, as soon as she saw Ariah coming down the stairs, she said: "she looks like her daddy."
If Ariah is more similar to her mother or her father doesn't really matter as her parents have been doing a fantastic job at showering her with love and affection.
Please fill in your e-mail so we can share with you our top stories!