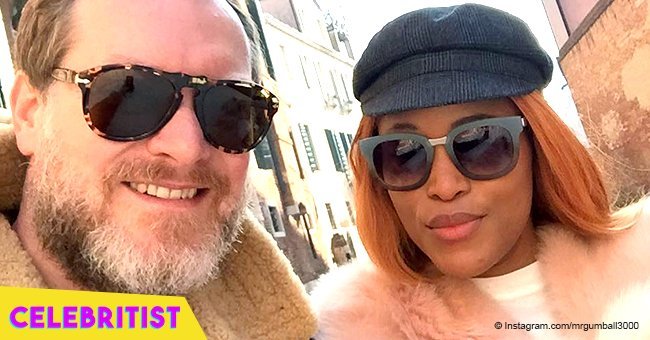 Eve & millionaire husband steal the show, posing by luxurious car in matching outfits

Rapper, Eve, and her British millionaire husband, Maximillion Cooper, have been sharing cute couple snapshots in different scenes at this year's Gumball 3000 event. Both Eve and Cooper appear to be having the time of their lives at the 20th anniversary of the annual motor rally.
In a photo shared by Cooper, the couple can be seen sitting on a blue race car against the backdrop of an impressive statue. Both Eve and her husband are coordinating in their red and white sporty outfits, black sunglasses, and White sneakers. Updating their fans and followers, Cooper, who is also the creator of the Gumball 3000, wrote:
@therealeve and I arrived at the beautiful #chateaudechantilly to an incredible reception of fans! This has been a fantastic #day1 on @gumball3000 #20thanniversary

#londontotokyo #gumball3000 #gumballlife #gumballfamily #kappassionate
In another video update, Cooper and Eve can be seen pulling up in a vintage sports convertible amidst cheers from Gumball 3000 fans lining both sides of the street. This time, the pair was in Italy, as can be deduced from Cooper's post: "We've just arrived in #Milan after an incredible drive today through the Swiss Alps... I'm still buzzing from yesterday's start in #London ...what an incredible send off we received from our fantastic #Gumballfans ...the #astonmartin #DB6volante is just stunning but we've switched to a #DB11 #V12 now for the longer drives!"
Eve also took to her Instagram to share a similar photo as her husband of four years. They are both leaning against the same race car as in Cooper's picture, but this time, the couple is coordinating in black. Eve is wearing a stylish tracksuit zipped down to reveal a white camisole, white sneakers, and a black face cap. Her husband is also dressed casually in a black T-shirt and jeans, with black sneakers. He is holding up an orange flare while Eve looks toward him in excitement.
The Philadelphia born rapper also shared a video montage of the event which featured celebrities, art displays, entertainment, and fashion. Fans and followers took to the comment section to express their admiration for the couple.
Instagram user @kecp14 commented: "I love that she supports him so hard #Reallove"
Another user @imaniroyale said: "I absolutely love seeing this couple! Stay strong and love hard!"
One of their apparent admirers went as far as praying for them. User @Lizwilinskiartandstyle: "What a gorgeous couple! live in love and Happiness & prosperity always"
Eve and Cooper, who met in 2010 at the Gumball 3000 and tied the knot in 2014, appear to be growing strong despite pressure mounting on Eve from some members of the public to have kids. She is currently stepmom to Cooper's four children.
Please fill in your e-mail so we can share with you our top stories!