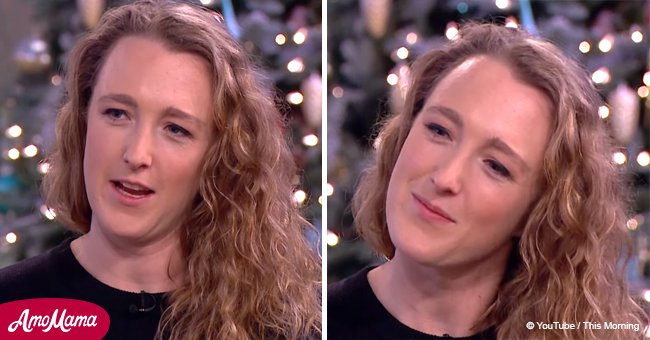 Woman claims she's in a serious relationship with a ghost and they want kids
She gave up relationships with earth-bound men over a decade ago and says she and her ghost lover are very happy together.
Amethyst Realm, 30, from Bristol, England, says she has been exclusively dating ghosts for 12 years and has had sexual relations with 20 different ghoulish lovers in that time.
Realm met her first ghost when she was engaged, and explained to "This Morning" hosts Holly Willoughby and Phillip Schofield that she had had intercourse with the ghost when her fiance had been out of town on business.
A short while later, her fiance had found out about her relationship with the spirit and broke off their engagement. Since then, Realm has sworn off human men in favor of her relations with ghosts.
Read more on our Twitter account, @amomama_usa.
Asked to explain how coitus with a spirit works, Realm said that she feels "kind of like a weight, I felt a pressure on my thighs. At the same time physical breath, and stroking."
Since her interview almost a year ago, Realm has been to Australia, where she has met another ghost, one she is now in a serious relationship with. She said of their meeting:
"One day, while I was walking through the bush, enjoying nature, I suddenly felt this incredible energy. I knew a new lover had arrived."
And their relationship has since escalated. The ghost returned to England with her, and six months after their first meeting they are still going strong. Realm even hopes that they will be able to have a child together.
"It's pretty serious. In fact, we've even been thinking about having a ghost baby. I know that sounds crazy but I've been looking into it and I don't think it's totally out of the question."
Realm has been reading up on phantom pregnancies and is fairly certain that they are caused by intercourse with ghosts that the human mind and body cannot process, causing a loss of the baby.
"I'm sure there's a way around that - I just haven't worked it out yet," she explained.
She certainly seems to be ready to settle down with this ghoulish lover after years of playing the field with numerous ghostly spirits.
Please fill in your e-mail so we can share with you our top stories!