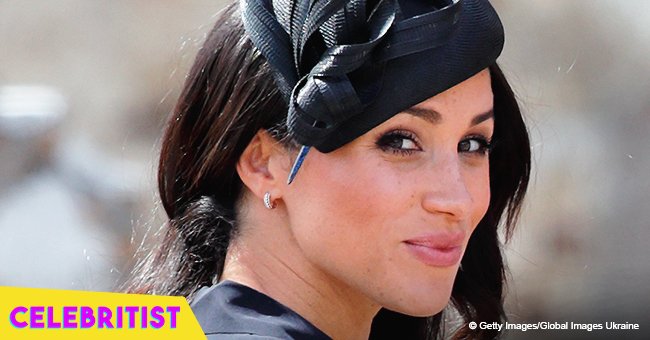 Meghan Markle slammed for 'breaking' royal protocol after flashing lace bra during birthday outing
Duchess Meghan and her husband, Prince Harry, attended the wedding of one of Harry's childhood friends, Charlie van Straubenzee on Meghan's birthday.
For the event, Markle put on a black and white shirtdress and paired It with a few pieces of jewelry and a black hat. Even though she looked gorgeous, there was an aspect of her outfit that attracted more attention: an undone button.
As People reported, the top button of her dress came undone and revealed the lacy black bra she put underneath it. Although she quickly noticed it and fixed the wardrobe malfunction, people took to Twitter to attack Meghan.
One of them was Joy Musa, who blamed her because she chose a dark-colored dress as if she was attending a funeral instead of a wedding.
Apart from that, Joy pointed out that while the bride, 27-year-old Daisy Jenks, and the groom, 30-year-old Charlie looked "cute," Meghan stole the show with her "deliberate wardrobe malfunction."
Others' like Twitter user Darlene Foster, joke about it writing the I see London, I see France song and pointing out that at least Meghan wore a "lovely bra."
People interviewed Beaumont Etiquette founder Myka Meier, an expert in what Royals should and shouldn't do regarding etiquette, and she confessed that Meghan didn't break any protocol.
"Meghan did not break royal protocol when her bra showed, as accidents or wardrobe malfunctions are not considered going against dress code rules. Her bra showing was not believed to be deliberate, in which case she would have not been seen to be disrespectful by the palace," Meier revealed.
The Duchess of Sussex has not been the only member of the Royal family that has endured a similar accident as the dress of Duchess Kate Middleton, Prince William's wife, was lifted by a strong gust of wind.
It happened during the couple's visit to Mahatma Gandhi's house in 2016. Apart from that, Kate's dress was also caught in a gust while on an airport tarmac when she and William made their first royal tour to Canada.
So far, Meghan has not said anything about the incident.
Please fill in your e-mail so we can share with you our top stories!