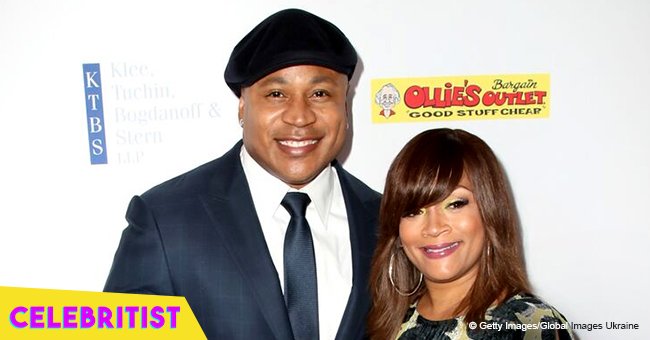 LL Cool J's wife shares throwback photo with her grandfather, showing their striking resemblance
Simone Smith is melting hearts with a throwback photo next to her good-looking grandfather, whom she says she "misses a lot." She has been married to LL Cool J for 23 years, and their story has been an example for many people.
The 50-years-old businesswoman and mother of four used to keep a low profile back in the day, but she's now famous not only for being a renowned jewelry designer but also for being a dedicated advocate for several charities.
Smith has earned her fair share of fans thanks to her job in and off social media, and when she took to her Instagram account to share a photo with her deceased grandfather, many fans filled her comment section with messages of love and support.
The pic portrays a younger Smith back-hugging her grandfather, who looks happy of being between the girl's arms. She was rocking a black t-shirt and several gold accessories while the man sported a striped red and black t-shirt. Simone took to her caption to share a heartfelt message about her grandpa saying:
"When I was a little girl the church ladies use to call me lil brother Pyle because I looked so much like my grandfather. Gosh I miss him #Papa #PapaGeorge #TheManWhoRaisedMe"
Instagram user @mygirl219 wrote "Sweet memories of a beautiful relationship with your Grandfather," while @cantgetright997 praised Simone's looks saying, "Damn girl only thing that changed was your hair," and @missing_u_2017 added "His spirit lives on forever in your loving memories. Thank you for sharing."
A few years ago, Simone was in the middle of a life or death situation after she was diagnosed with a rare type of bone cancer called chondrosarcoma. While she was devastated and scared by the news, her husband put his professional life on pause to be with her day and night while fighting the disease.
They met at such a young age that many people would have doubted they will be together for such a long time and through such harsh circumstances. But the rapper revealed on Jimmy Kimmel Live, that he was in love at first sight when he saw Simone.
"I was just 19, something like that," he told Kimmel, and continued "It was Easter, and I was driving down the block in my mother's car." He then stopped to say hello to a friend, and his friend said, "Hey, you wanna meet my cousin?" LL Cool J was about to decline the proposal when he saw Smith. He recalled, "I looked over and said 'Oh yeah, I'll meet your cousin.'" That was the begging of a beautiful love story.
These days, the couple is one of the few in Hollywood that have been together for years without any cheating scandals or other controversies. Their family leads by example, and they're now enormous advocates for cancer research after Simone's experience.
Please fill in your e-mail so we can share with you our top stories!