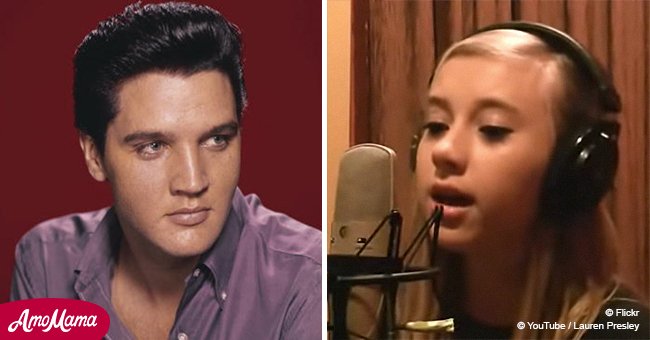 Elvis Presley's relative shows off her stunning voice singing 'A Little Bit Stronger'
Lauren Marie Presley, presented viewers with her incredible talent in singing, with a beautiful rendition of the Sarah Evans' track, "A Little Bit Stronger," a smash hit in the year 2011.
Lauren was 12 years old when she uploaded a video of her performing the hit song on April 21, 2018, on her official YouTube channel.
Forty years have passed since the world was shocked by the tragic death of Elvis Presley but he is still one of most loved musicians all over the world.
Read more on our Twitter account @amomama_usa.
The talented Lauren, now aged 16, seems to have followed in the footsteps of her very popular and well-known relative.
Lauren's father is a distant cousin of the late Elvis Presley, and she seemed to bring the magic of the "The King" back to life with her breathtaking rendition of hit country single "A Little Bit Stronger."
The talented singer showed that she is a force to be reckoned with as she demonstrated her jaw-dropping vocal skills that had left the viewers of her YouTube video in disbelief that she was just 12 at the time.
Lauren has beautifully captured the essence of the song with her soulful singing. Watching her performance, viewers have felt that Lauren does not even need to rely on her famous last name as she has the right amount of talent, along with confidence and determination to write her own story of success.
The video garnered over four million views and over 4,400 likes. YouTube user, George Miser, said that the young girl had the blood of the "King" himself.
Another user, Phoenix Eagle, said that the outstanding singer's voice was "like velvet pure gold."
Lauren had also appeared on the American TV channel Lifetime's competition series called "Chasing Nashville," in the year 2013. She competed alongside three other teenage singers.
"A Little Bit Stronger" was co-written by Lady Antebellum's Hillary Scott along with a couple of other songwriters and it narrates the story of a woman who is immensely sad after being let down by her former lover.
The song talks about the difficulty the woman faces while she tries to put her life back in order, day by day.
Please fill in your e-mail so we can share with you our top stories!