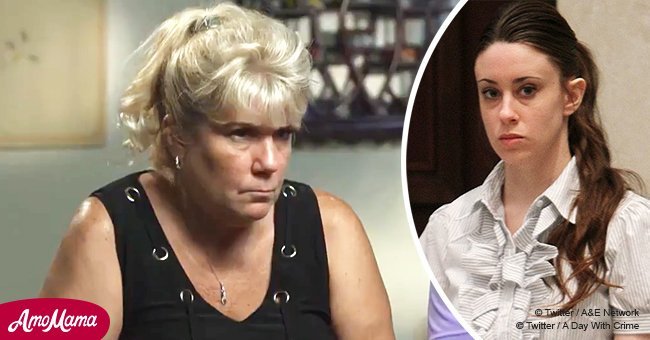 Casey Anthony's mom storms out of interview about Caylee's death
Ten years after the disappearance of 2-year-old Caylee Anthony and the subsequent discovery of her body near the family home, her grandparents opened up in a special for A&E in which there was no shortage of tensions.
In their first joint interview in years, George and Cindy Anthony, parents of Casey, who was accused and then acquitted of the murder of her child, talked to Elizabeth Vargas, who covered the case in 2008 to reflect on what they have gone through.
The A&E special titled Casey Anthony Parents Speak aired for the first time on May 28, 2018, and was recorded in the family home in Florida where Casey and the late toddler used to live until the tragedy unfolded.
Much of the exchange between Casey's parents and Vargas revolved around the question of whether or not they believed their daughter was responsible for the mysterious death of Caylee. Read more on our Twitter account @amomama_usa
Tensions arose between the husband and wife during the talk, and it became evident that the two don't see eye to eye when it comes to determining Casey's guilt on the much-publicized case, as Cindy stormed out in anger in the middle of it.
As was revealed in the special, the couple was on the brink of divorce when they found out about their daughter's pregnancy in 2005. Despite the initial shock the news caused them, the arrival of Caylee helped them to remain together.
"Cindy and I must have really raised a bad seed somewhere. I don't understand it. I don't understand what happened with her."
-George Anthony, A&E. May 28, 2018.
George and Cindy grew closer once again as they helped raise the child they became so attached to, and the circumstances around the death of their granddaughter left a wound so painful that George even attempted suicide.
They credited the birth of their grandson in 2013, from son Lee, with helping them go on with their lives, as they shared in a nationally televised interview on Crime Watch Daily, as Orlando Sentinel reported in 2017.
Cindy was the person who alerted the authorities about Caylee's disappearance, after she had not seen her granddaughter for 31 days, as was recorded in her call to 911 on July 15, 2008:
'I told you my daughter was missing for a month. I just found her today but I can't find my granddaughter. There's something wrong. I found my daughter's car today. And it smells like there's been a dead body in the damn car.'
Her husband started to become suspicious following the recovering of Casey's car from a tow yard after her weeks-long absence from the household, but Cindy claims to have made it sound worse in order to catch the attention of the police.
During the interview, George tried to enter into more detail about the terrible smell he sensed when he approached the car, but this was not well received by Cindy, who urged her husband to "shut up."
The finding of the car divided the couple's opinion about Casey's involvement in Caylee's death to this day, but George hasn't changed his mind about it.
'Looking back at it, I should have called the sheriff's department right then and there. That's something I live with every single day. I know what I smelled,' George said.
As the investigation developed, and in the course of her trial, which took place in 2011, Casey was caught lying to her mother, friends, investigators, and jury, as was much covered by the media, shaping the negative public opinion about her.
But despite acknowledging the many lies of her daughter, Cindy still believes in the 32-year-old's innocence regarding Caylee's death, favoring the defense's version that the child drowned in the pool and her mother was too afraid to report it.
When George was discussing his daughter's tendency to lie, his and his wife's disagreement came to a critical point with Cindy turning against him and recalling their problems as a couple.
'George, Casey learned by example. You lied to me for several years, and that's where our daughter got it,' exclaimed Cindy before angrily walking out of the set, reprimanding her husband for making her 'relive everything again.'
While George reportedly doesn't want to have any relationship with Casey, his wife still contacts her from time to time.
Cindy might think her daughter is innocent, but when Vargas asked George if he believes Casey was involved in the death of his granddaughter, he was very clear about it, answering: "Absolutely."
Please fill in your e-mail so we can share with you our top stories!