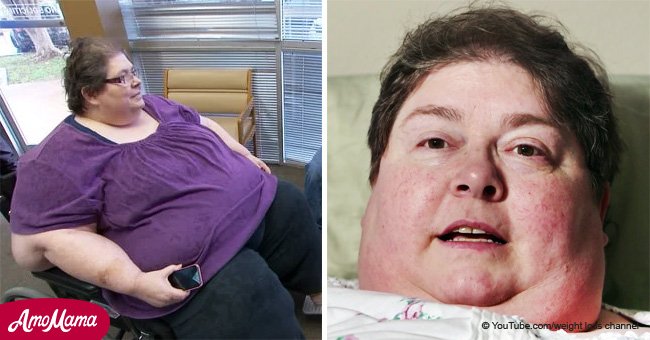 'My 600-lb Life' star looks absolutely unrecognizable after losing 265 pounds
Diana Bunch, who starred in My 600-lb Life, is living her best life after shedding 265 pounds.
In February 2017, the morbidly obese woman, from Seattle, made an appearance on the TLC docu-series, My 600-LB Life.
As reported by InTouch Weekly, she has lost 265 pounds since she first appeared on the show.
For more on this story go to our Twitter account @amomama_usa.
Bunch was one of the direst cases ever featured on My 600-LB Life as many viewers will remember.
She weighed 600 pounds and faced lymphedema or extreme swelling in her legs, as well as painful blisters and open sores.
Bunch's early childhood was relatively normal, but things got chaotic as she got older. She has three sisters and a brother. Her family struggled with numerous problems.
"There was always a crisis. I think the chaos in my family made me feel really insecure," Daily Mail quoted Bunch as saying.
"I didn't feel like there was a safe harbor for me, and I learned very young that I really was the only person I could depend on and at times that was a very lonely thing."
When Bunch was 11, she was molested by two high school students.
"I never told anyone because I felt like it was something I did, so I pushed it down and never talked to anyone because I didn't have anyone," she said.
"When I think back to the little girl that I was and all she went through, I would want to back and protect her and there was just nobody there to do it, and that lack of protection set my path for a very long time."
Bunch had always had the desire to turn to food for comfort after the childhood trauma. However, she only weighed 115 pounds when she was a teen because her mother always urged her to diet.
Having suffered mentally and physically from the abuse, Bunch grew older with complicated feelings of guilt, shame, and low self-esteem.
She also learned the hard truth that she was the only one who could take care of herself, which troubled her with a feeling of loneliness.
When she moved out of her mother's care, her food habits changed radically, and she developed an uncontrollable food addiction that caused her to gain weight. As a result of her obesity, she lost her job in the Air Force.
After years of turmoil, Bunch experienced a transformation after undergoing a gastric sleeve surgery. The procedure got rid of 70 percent of her stomach, and she lost 265 pounds.
She took care of her new body and is living a healthier life. Her outlook towards her life improved to become more positive.
Apart from leading a changed life, Bunch is also an active user of social media. She shares updates on her life that are uplifting to many people who are battling similar health problems.
Please fill in your e-mail so we can share with you our top stories!