Beach goers smash car window to rescue French bulldog and are harassed by the owner
Thousands of animals die in hot cars every year, and these 12 strangers decided it was not going to happen on their watch. 
One of the rescuers, Hollie Marie Evans, shared the account and video clips of the incident on her Facebook page earlier this week. She added a stern warning for pet owners. 
"Stop leaving your dogs in cars in this heat," she wrote in uppercase letters and added that she "had the most disgusting experience" at Freshman Great Pond in Surrey, England. 
Follow our Twitter account @amomama_usa for similar stories and don't forget to scroll down for the videos.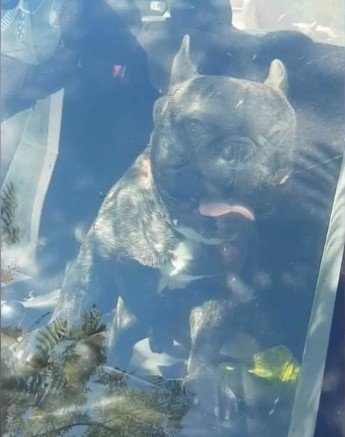 According to Evans, her group of friends noticed that a French bulldog was locked in a car. Even though the window was slightly ajar, the temperatures were still high.
There wasn't a police officer available who could attend to the matter immediately, but the sheriff's office informed the group to break the window if necessary.
They smashed the window with a hammer, removed the dog and gave him some water. The dog vomited, a sign of severe dehydration.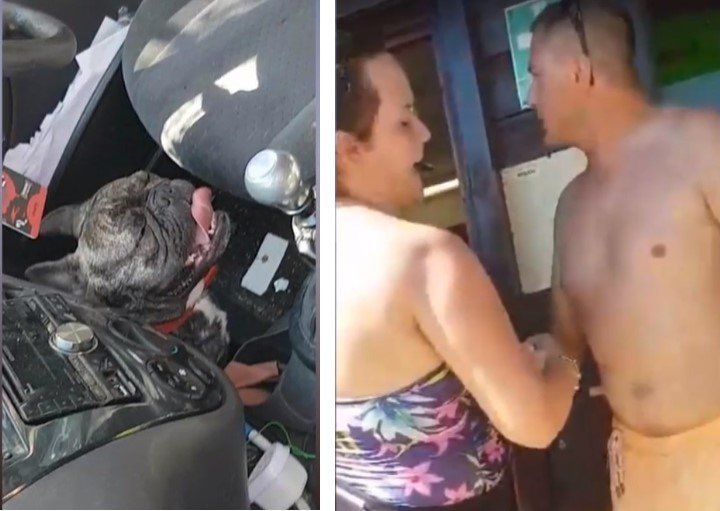 The Pond's ranger informed the owners that dogs were not allowed on the beach but added that they were "shown an area where they could take the dog."
Instead, they left him in the vehicle with temperatures reaching 95 degrees Fahrenheit. 
When the owners returned nearly four hours later, they were furious to found the window broken.
The unnamed man even threatened the group. In the background, someone can be heard saying "call the police and the RSPCA."
Evans told the owner: 
"It's not really nice to threaten the people who just saved your dog. [...] Do you know how hot it is here today?"
Thankfully, the dog was safe, but police officers told the group the return the poor pooch to his rightful owners. 
A recent study revealed that it only takes 10 minutes for the air in a parked vehicle to reach 20 degrees Fahrenheit, and merely leaving the window open at a sliver isn't enough. 
An exact figure cannot be estimated because thousands of cases go unreported, but Jan Null from the National Weather Services said, "thousands of dogs' lives are lost every year." 
Evans began a petition to make it a criminal offense when animals are left in hot vehicles. The petition already has 11,552 signatures, and Government responds to all requests exceeding 10,000 signatures.