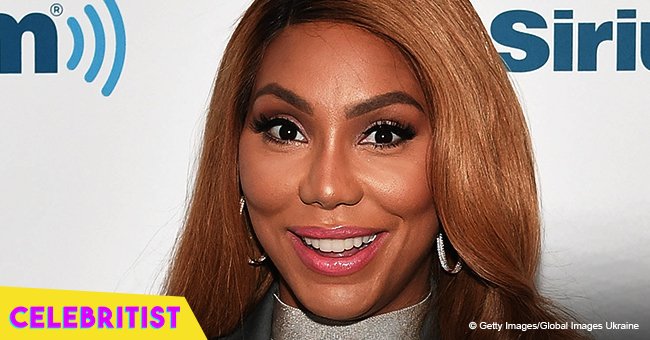 Tamar Braxton flaunts killer curves in see-through long-sleeved black mini dress in new photo
The singer and reality star is looking better than ever at 40, as proved by her most recent Instagram post.
Tamar Braxton has been making headlines for her tumultuous relationship with soon-to-be ex-husband and her impulsive decision to shave off all her hair earlier this year.
She was accused of being hysterical and crazy after going on social media rants about Vincent Herbert cheating on her.
When she later recorded her hairdresser shaving off her head, some fans thought she was having a Britney-2007 crisis.
However, Braxton has proven she's as lucid as ever. She is now in the right place with the father of her child, even spending time with him for the sake of their son and the business they run.
She explained that she got rid of her hair because she was tired of living up to society's beauty standards and being a slave of weaves, wigs and people's comments.
At the time of her drastic change, she shared a pic and wrote in the caption:
"I'm over feeling captive to a wig, weave, people, people's comments & opinions hell...even my OWN feelings! WE can choose to stop these things from having the power and victory over us!! And for me, that starts TODAY."
Braxton rocked her almost bald head for some weeks, but it seems like being part of the entertainment industry sometimes demands a few sacrifices from women.
She's now back to the weaves and wigs whenever she hits the stage.
Braxton took the stage at the Summer 2019 Weekends in Detroit, on August 3, and shared a beautiful photo from her performance on Instagram of her killer outfit.
Donning a long-sleeved mini see-through black dress with black lingerie underneath, Tamar showed off her curvaceous and slimmer body in front of thousands.
She flipped her blonde weave while playing with the mic stand. Fans immediately took to her comment section to praise her toned legs and gorgeous makeup.
One Instagram user compared Tamar's look to a superheroine from Marvel saying "Looking like Storm of the X-Men! You got powers girl! Beautiful."
Another commenter was impressed by Tamar's beauty as they said "Omg your hair, your makeup, errything! [sic] slay queen slay!!"
A few months ago, Tamar confessed to Steve Harvey that, like many other women, she made some changes to her appearance to please her husband. She said.
"I believe in being attractive for your mate."
The singer continued:
"Vince [Herbert] likes blond head, light, fair-skin women. I just wasn't born with no blond hair. But for me, I think that's just a responsibility women have… it's to stay current for your man."
Now that she's no longer in a relationship with Herbert, it seems like Tamar is wearing her wigs because she likes them and not to please no one else but herself.
Please fill in your e-mail so we can share with you our top stories!