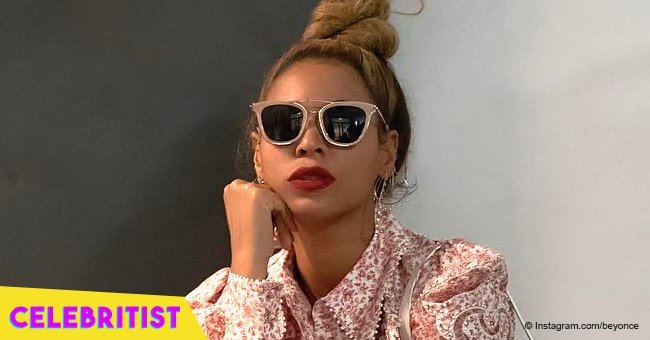 Beyoncé holds Blue Ivy's hand, arriving at the premiere of 'Frozen' on Broadway
Taking a break from her tour, Beyonce spent some quality time with her daughter Blue Ivy enjoying a Broadway play. Starstruck fans who spotted the mother and daughter hand in hand to watch 'Frozen' took to Twitter to express their surprise and delight.
Fans of the Broadway show 'Frozen' were treated to an unexpected attraction over the weekend when Beyonce showed up with her daughter Blue Ivy.
Social media was abuzz after the mother and daughter were spotted on Saturday at the St. James Theatre where they emerged holding hands for their play date. A Twitter user expressed her delight at chancing upon the mom-of-three as she was passing by and took the opportunity to take a snap of them walking into the theater. The fan wrote,
"Captured these shots of beautiful #Beyonce and Blue Ivey walking into Frozen in NYC Saturday night- What a treat for my friend and I who were just passing by and saw a man talking into his wrist and opening a door to a dark SUV-"
Meanwhile, Jason Tartick and Colton Underwood who were also in attendance that day likewise spotted Beyonce and Blue, and Jason couldn't decide whether he was more excited over that or the show.
"I'm still debating if I'm more star struck by @PattiMurin performance @FrozenBroadway or the fact @Beyonce was in the audience."
The cast of 'Frozen' was pleased by Beyonce's attendance so they took a selfie and thanked the star for her support on social media.
"From us to @Beyonce, thanks for taking a pit stop from #OTRII to visit us in Arendelle"
Beyonce and her husband Jay-Z were on a night off from their 'On The Run II Tour' on Saturday which explains why the 36-year-old found the time to bond with her daughter. She was also spotted looking hot in a cleavage-baring number the following day as she indulged in a dinner date with the entertainment mogul. They were back on stage on Sunday in Boston after which they proceeded to Minneapolis for another show on Wednesday.
Please fill in your e-mail so we can share with you our top stories!