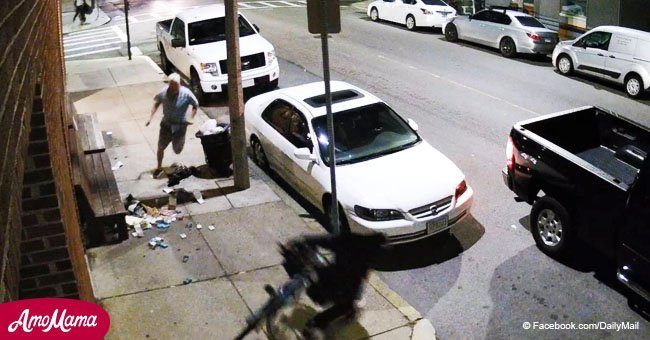 See the moment dad chases robbers with a baseball bat to protect his daughter
After hearing his daughter's call with his wife, he quickly armed himself and ran to protect his daughter from any potential harm.
Dawn Morris was alone in the kitchen of DJ's Polish market on August 4 just before 4:30 AM when she heard a sudden bang outside in the store. She ran to check what was happening, only to see two men kicking in the glass of the door until it broke.
She retreated back to the kitchen, where she pulled out her phone to call her mother in terror that she might be harmed.
Her father, Dan Morris, overheard his daughter's phone call, and in the background Dawn just heard him say "I'm coming."
She also pulled the panic button on the alarm system.
In the meantime, the two men had gotten into the store, and started filling black bags with lottery tickets and cigarettes.
But within 90 seconds of his daughter's call, 62-year-old Dan arrived in his pick-up truck outside the store, with his horn blaring, and armed with a baseball bat.
At that point, the two men were trying to escape the store, and took off down the sidewalk in opposite directions as Dan chased after one of them.
While they fled on foot, Dawn flagged down an EMS worker nearby, who was able to apprehend the other suspect, and held him until the police arrived on scene. That suspect has since been identified as 39-year-old Thien Nguyen.
The other suspect managed to escape.
Speaking to ABC, Dan was incredibly emotional about the incident, saying his only thought as he had headed off in pursuit was for his daughter in the store.
"I was just like...so much rage," Dan said. "You feel like you're being violated, our family is being violated. Perfect timing because if it didn't play out the way it did, we probably wouldn't have caught the guy. If I wasn't here, they probably would have broken in, took more stuff and they would have gotten away, left and nothing would have happened."
Dawn also shared that she feared for her father's safety as he took off in pursuit, because they didn't know if the men were armed.
It is the second time DJ's Market in Dorchester has been broken into over the summer, and Dan suspects it may well be the same two men on that occasion as well.
Please fill in your e-mail so we can share with you our top stories!