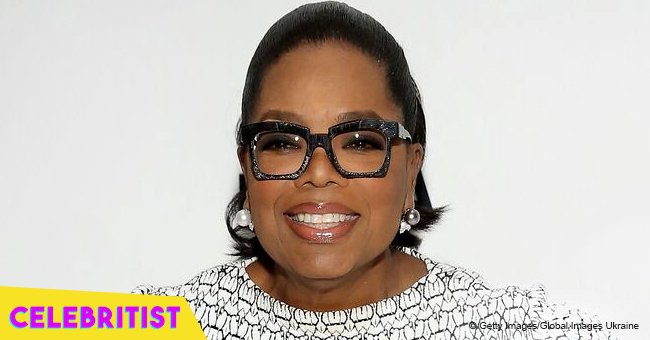 Oprah Winfrey stuns in stylish, striped shirt on vacation with billionaire male friend
Oprah Winfrey made quite an impression this week when she was spotted looking stylish in the company of renowned billionaires. The entertainment mogul was on vacation in Italy ahead of a gathering of industry titans when she was mobbed by fans who wanted a chance to be with her.
Leave it to Oprah Winfrey to make an impression even when she's vacationing in a foreign country. The entertainment mogul was enjoying a day in Portofino, Italy alongside famous billionaires and she was instantly surrounded by fans who took the opportunity to share a moment with her.
Oprah looked effortlessly chic in a striped collared shirt and white pants as she strolled along the seaside town. She matched her relaxed ensemble with white slip-ons and a pair of drop earrings as she casually tied her hair in a ponytail.
The 64-year-old's presence immediately alerted fans who were walking by. At one point she obliged those who rushed to her side for a photo op while several others waited in line to get their turn.
The television star was in the company of business bigwigs during her trip. She was cruising off the Italian coast on the Rising Sun yacht with David Geffen and was also spotted grabbing a bite to eat with Goldman Sachs CEO Lloyd Blankfein. They were all set to attend the sixth annual Google Camp at the Vendura Resort in Sicily where they were joined by fellow billionaires Barry Diller, George Lucas and Google founders Sergey Brin and Larry Page.
The annual "secret' camp similar to Allen & Co.'s Sun Valley, Idaho event brings together business movers who are encouraged to bring their families to the resort boasting of two18-hole golf courses, a tennis academy and one of the biggest spa complexes in Europe. It has a private coastline with a number of suites and private rooms as well as villas where guests arriving by sea or helicopter could stay. Guests are also treated to a massive infinity pool with a beautiful private beach filled with imported white sand. A red carpet is also laid for stars to walk on as they head towards the ocean.
The luxury yacht Azteca is currently docked at the resort, the same yacht that hosted Elton John last year when he attended the conference.
Oprah's European trip comes in the heels of her Twitter Q&A for her 'O' magazine where she opened up about the perfect date night with her longtime partner Stedman Graham.
In a video clip she shared on social media, she said it didn't take much for her to impress her man as her skills in the kitchen was enough to constitute a perfect date night.
"'Perfect date night: me cooking and then it's on. Well, I am a really good cook and the wonderful thing about Stedman is in all the years that I've been cooking for him, no matter what it is."
"He is delighted with anything that I make, so my favorite date night is to make him black-eyed peas and cornbread as a surprise for dinner and then honey, hush..... That's all you need!"
The OWN founder and the 67-year-old have been dating since 1986. They live together in Oprah's $90 million estate near Santa Barbara, California, apart from other properties the television star purchased through the years. She reportedly owns a home in the exclusive Fisher Island south of Miami, Florida and an estate in Hawaii.
Just this year, she was reported to have purchased a 43-acre compound on Orcas Island to the tune of $8.275 million. The island is one of four big islands in the San Juan archipelago off Seattle.
Please fill in your e-mail so we can share with you our top stories!