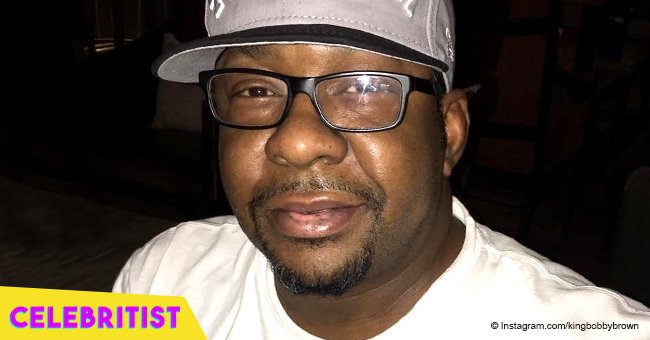 Bobby Brown's daughter shows off her natural beauty in make free photo
LaPrincia Brown showed her sun-kissed skin in a makeup-free photo shared to her Instagram account. She was one of the witnesses to testify in the wrongful death lawsuit of the Brown family against Bobbi Kristina's boyfriend, Nick Gordon.
The 28-years-old is the eldest daughter of singer and songwriter Bobby Brown and ex-girlfriend Kim Ward, with whom he was in an on again, off again relationship for over fourteen years.
These days, LaPrincia is all about showing her natural beauty, opting for sharing makeup-free photos of her beautiful face on social media, as a way to encourage other women to embrace their flaws and natural self.
In one of her most recent Instagram posts, Brown is wearing a sleeveless colorful top, silver hoop earrings and has her raven locks tied in two pigtails as she smiles playfully to the camera.
"flaws & all," she wrote in the caption of the picture, probably referring to the barely noticeable pimples in her forehead and sun spots on her chest.
Fans took to her comment section to praise LaPrincia's beauty. One follower wrote "Flawed with Beauty and Blessings. Keep it Real!," and another commenter added "Always beauty in flaws. It's actually the most flawless natural beauty there is."
Even though her father's relationship with Whitney Houston was the reason he broke up with her mom, LaPrincia always had a close relationship with the Houston family, especially with her little sister, Bobbi Kristina, who was four years younger.
After her tragic death in 2015, the Browns and the Houstons filed a wrongful civil lawsuit against Kristina's boyfriend, Nick Gordon, whom they accused of having a role in her death by giving the girl a "toxic cocktail" that led to her drowning.
LaPrincia was one of the witnesses to take the stand, and in her emotional testimonial, she related the moments she lived with her sister at the hospital before she passed away. As reported by USA Today, she said:
"I just miss her. I played music to her a lot. I could see her eyes looking around the room. She would cough. She would yawn. It didn't seem right that she couldn't communicate. She'd blink, and more tears could come. I feel like she could see me but couldn't say anything."
Nick Gordon was ordered to pay the family $36 million for Bobbi Kristina's wrongful death after he failed to appear twice in court to face the accusations. As a result, the judge stated that "anything alleged by the plaintiffs was admitted through omission."
Bobbi Kristina's death was a hard blow for the entire Brown family, but it seems like after getting a bit of justice, they have been able to move on. Still, they remember the girl through sporadically social media posts.
Please fill in your e-mail so we can share with you our top stories!