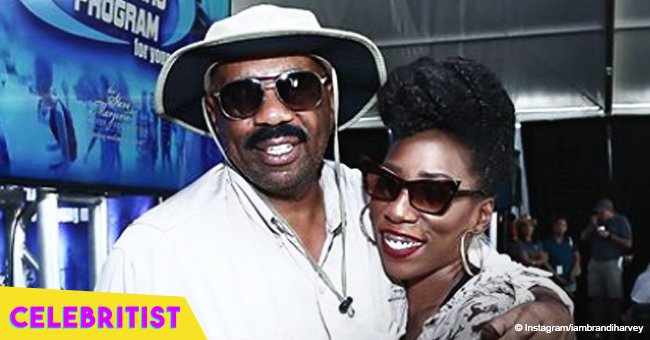 Steve Harvey's daughter Brandi turns heads in orange one-shoulder jumpsuit & matching turban
Brandi Harvey recently stunned fans on social media with a bright orange outfit, and the lucky women that were able to hear the speech she gave in said outfit, were left stunned for different reasons.
She's one of the eldest twin daughters of comedian and actor Steve Harvey, and like her father, Brandi leads by example in her life. A businesswoman and motivational speaker, Brandi has a holistic approach to life, always working out, eating healthy and sharing wellness tips with her followers.
Through her company, Beyond Her, Brandi works to spread the mindset that happiness can be found by balancing the body, mind, and spirit through a healthy lifestyle.
That same approach to life has led Harvey to become a motivational speaker, always earning a massive response from the crowds that listen to her. Whether they are teenagers, women who have suffered domestic violence, college students, or entrepreneurs, Brandi seems always to have the right words.
She was recently awarded the Ambassador of Change Award in Health and Wellness from Ambassadors Of Change INC. According to their site, they are a nonprofit organization that provides a place "for minority girls and women to be Change Agents in their communities, states, and nations."
Brandi was one of four honorees that attended a luncheon with several women that, in one way or another, have made changes to their community.
To commemorate the occasion, Harvey shared a photo on Instagram showing off the outfit she rocked at the event. Fans were entranced by Brandi's neon orange off-the-shoulder jumpsuit and her matching headwrap. She completed the look with golden accessories and long white nails.
She wrote in her caption:
"Yesterday I was honored with the Ambassador of Change Award in Health and Wellness from @aocinc. It was a phenomenal day. SWIPE LEFT to see my fellow honorees and some beautiful Queens. @beyondher.co #gobeyondher #thewinnerscircle."
Brandi also shared a short clip from the talk she gave at the luncheon, titled "When are you going to #hashtag your own life?". In the short video, she can be heard saying to the room:
"When are you going to hashtag your own life? How is someone else's relationship "goals" because you can get your relationship? How is somebody else's body goals because you can't get your body together? How come is somebody else's business "goals" because you can't discipline enough yourself to get your business together? Is just your life…"
Harvey earned cheers, applause, and sounds of approval from the audience and a good reaction from her followers in her comment section as well. One user commented "Wowwww!!! This just blessed me!!!! Thank you for that push!" and another added "Wow. What a message! #hashtag your own life. I'm guilty of this myself."
A more extended version of her speech can be found on Brandi's IGTV.
Please fill in your e-mail so we can share with you our top stories!