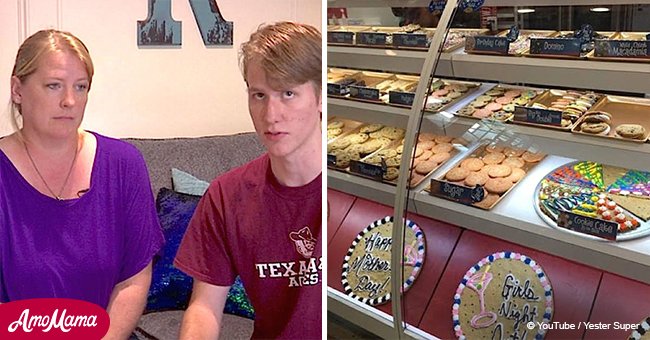 Teen cashier pays for officer's dessert but his good deed turns into a suspension from work
Zack Randolph got suspended from his job after paying for a police officer's dessert at the shop where he works.
Tami Randolph, mother of the 18-year-old employee at Great American Cookies, took to Facebook to air her frustration.
"Since when does buying a police officer a cookie give anyone else a reason to attack someone. And since when did a Corporation want to fire someone for being KIND, taking what a customer said or did, regardless of how hateful they are?" she wrote in the viral post.
She recounted what happened. She said her son worked at Katy Mills Mall and on Sunday evening an on-duty police officer walked up to the counter and placed his order.
Follow us on our Twitter account @amomama_usa to learn more.
"My son offered to pay for his cookie with his own money. The officer was grateful, said thank you and walked away," she wrote.
Seeing Jack's nice gesture, a family walked up to the counter and demanded that he also give them free dessert.
Jack refused saying he was doing it only as an act of gratitude for the police officer.
"Then the customer started verbally attacking him, calling my son a racist, and threatened to beat him up," Jack's mother wrote.
The man then told Jack that he would get him fired. Two days later, Jack was called into the manager's office. He was told to bring all his stuff to the office.
"He was told the upper managers want him fired. Thankfully his manager refused and said you are an excellent worker and everyone agreed that you did nothing wrong," Tami wrote.
In the end, he was suspended for one week and warned that he would be terminated if he did it again.
Tami updated the post saying that the company had offered a verbal apology and to pay for the hours he was scheduled during the suspension.
Shared on July 6, 2017, the mother's post has been shared 11,000 times and has drawn 11,000 comments.
Please fill in your e-mail so we can share with you our top stories!