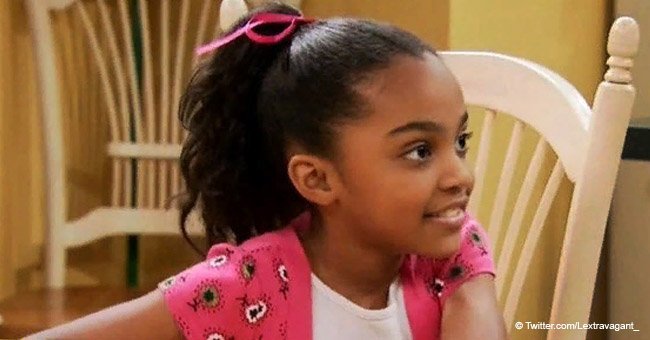 Remember adorable Jazmine Payne from 'House of Payne?' She's now a grown up & gorgeous woman

Better known once as Jazmine Payne in "House of Payne," China Anne McClain is now 19 and an attractive young woman. She's currently working on a successful superhero series.
China Anne McClain left the dolls and cute little girl image behind. The soon-to-be 20-year-old has grown and her Instagram account is the vivid proof of that. She's now sporting a sexier look without falling on the racy side, as her smile continues to radiate the same innocence it did years ago.
Tyler Perry found a diamond in the rough from her role and music performance in 2005 film, "The Gospel," where she played Alexis. This spurred him on to include a then 8-year-old budding star in his own creation "Tyler Perry's "House of Payne" that premiered two years later.
For the next four years, McClain would be set up for fame as she unleashed her comedic and acting genius through Jazmine Payne.
Since the end of the series, McClain has received credits in eleven films and fourteen other television series. Two of her most renowned works were on Disney Channel.
First, the original television series "A.N.T. Farm," where she had a leading role from 2010 to 2014, and also the film "Descendants," where she gives life to Uma, the daughter of Disney's villain Ursula.
Besides acting, China has shown a great passion for music. She formed a music band with her sister called McClain and has participated in several of Disney's OSTs. Daughter of a music producer father and a songwriter mom, it was only natural for China to grow up wanting to get immersed in the music scene.
But despite her great love for music, these days McClain is focusing on her performance as Jennifer Pierce in "Black Lightning," based in one of the first black superheroes comic books.
Talking about the striking differences between her character in the series and her character in "Descendants," McClain told Rolling Out:
"I feel like it's a perfect mix between both Jennifer and Uma. Because Jennifer at the start of the show of 'Black Lightning' is going through a lot of stuff. She's growing into herself. She's getting to know herself. Getting into some trouble and you know I've obviously been through that with my parents. So, I have a little bit of that and the just learning about myself."
And continued:
"And then there's the side of Uma that's very like I said determined and willing to do what she needs to do and work as hard as she can to get it. And that's where my, "been-working-since-I-was-5-years-old" side comes in because I take that very seriously. So I feel like it's a mix."
"Black Lighting" season 2 will be hitting the screens in October, and "Descendants 3," where China is reprising her role as Uma, is set to hit theaters next year.
Please fill in your e-mail so we can share with you our top stories!