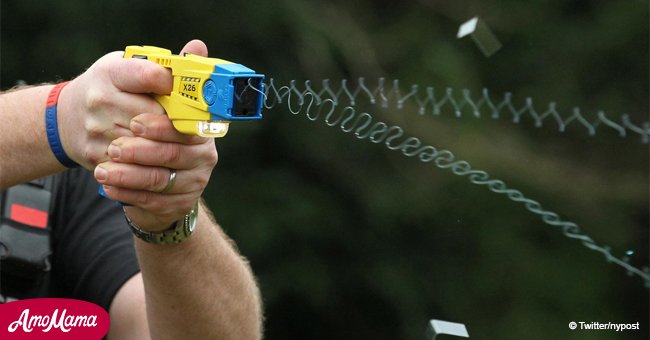 11-year-old girl tased by off-duty officer who suspected her of shoplifting

A young girl was taken to the hospital due to being shocked with a taser after she was allegedly caught shoplifting.
The 11-year-old Donesha Gowdy was spotted walking suspiciously around the Kennard Avenue Kroger store in Cincinnati, Ohio, on August 6.
According to WCPO, an off-duty officer suspected that the girl was using a backpack to store stolen items. She resisted and tried to flee when approached.
The officer, whose identity has been concealed considering the open investigation, pulled out his stun gun and hit the girl in the back as she tried to run out of the store.
Read more on our Twitter account @amomama_usa.
Emergency services were called and the girl was transported by ambulance to Cincinnati Children's Hospital. She was evaluated and released into a guardian's custody.
The girl was charged with theft and obstruction of justice and is expected to appear in juvenile court, but the date of the hearing hasn't been announced yet.
According to Police Chief Eliot Isaac, the case is being investigated. Based on the police department's policy, taser guns can only be used on individuals who are older than seven years.
The use of excessive force has concerned the authorities and the officer responsible for using the taser has been placed on restricted duty while the incident is being analyzed.
Police Chief Isaac guaranteed that the use of excessive force on a child was a serious issue and that the department's policies would be thoroughly reviewed, including "the propriety of the officers' actions."
Back in 2014, four police officers were called by a babysitter due to a home disturbance. An 8-year-old girl had a knife in her hand and was throwing a tantrum.
Instead of trying to grab her attention and quickly seizing her, one of the officers hit her in the chest with a taser.
Her mother, Dawn Stenstrom, believed that the officer should have been punished but the South Dakota Division of Criminal Investigation determined that the officer acted appropriately.
Please fill in your e-mail so we can share with you our top stories!