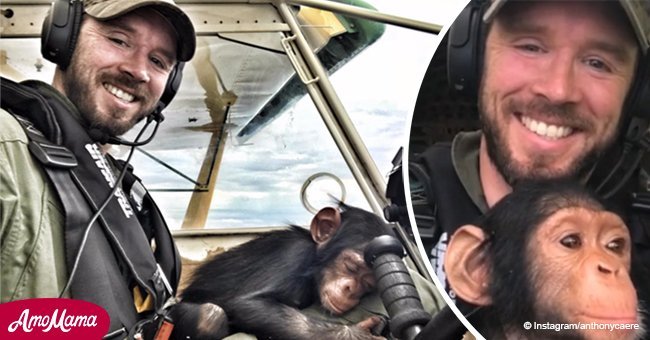 See the moment a rescued chimp bonds with the pilot who flew him to safety
A video of an orphaned baby chimpanzee being rescued by a pilot became viral. Although, the pilot said he wished he would never have had to save the chimp in the first place.
In the short clip posted by Belgian aviator Anthony Caere on Instagram, the baby chimp is seen cuddling with his rescue pilot while in mid-air. The sweet moment touched the hearts of many social media users.
Caere was happy the video became popular, but he said he wanted to remind everyone that the animals he rescued endured a lot of suffering.
Caere revealed how they save these animals in an interview with PBS.
Follow us on Twitter at AmoMama USA for more stories and updates.
Caere works for Virunga National Park in the Democratic Republic of Congo.
During the interview with PBS, he expressed that he wished his special, one-on-one moment with the chimp never had to happen.
The video revealed Caere taking the chimp named Mussa to the Lwiro Primate Rehab Centre.
Mussa was rescued from a man who made the chimp his pet. The chimp was taken away from the wild when he was very young, and poachers killed the rest of his family.
Usually, adult chimps are killed for bushmeat, and the young chimpanzees are being bought by people as pets.
These animals made as pets are often found starving, stressed, and injured because of how they are tied up and restricted in cages, as revealed by PBS.
Caere said that is the main reason why he doesn't restrain the chimpanzees he rescues on his flights.
On his Facebook page, he wrote, "A baby needs hugs and compassion instead of being locked up in a cage during a stressful flight."
As for Mussa's sudden fame, Caere urged people never to forget the thought that Mussa could have been happier if he wasn't taken away and if his family didn't die.
He said to PBS, "I hope the people not only say, okay, it's a cute movie, but the message is that that little chimp should be with his mom, and not on my lap."
Mussa is one of the more than six dozen chimpanzees rescued and taken at the rehab center. Aside from the chimps, the center also took in around 100 monkeys.
Please fill in your e-mail so we can share with you our top stories!