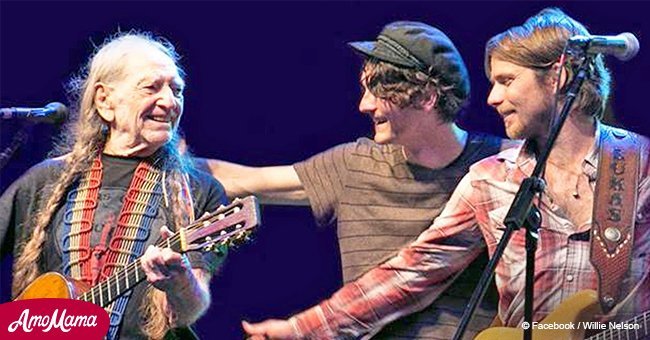 Willie Nelson and sons perform a touching country classic song together
Willie Nelson and his two sons, Lukas and Micah Nelson, unite to cover one of the favorite songs of the iconic country artist.
Willie's official Facebook page posted the beautiful video that shows the trio giving their soulful voice to revive a popular song, Blue Eyes Crying In The Rain.
At the beginning of the video, Lukas tells his father about the first time that he played a song on a guitar and reveals that it was the very song.
Lukas explained that he was about 10 years old, he asked his father what he wanted for his birthday. The loving father then kindly told him that he wanted nothing more than for Lukas to learn how to play guitar.
Follow us on Twitter to learn more.
To fulfill his father's wish, Lukas then asked his father to teach him music. The first thing that Willie then taught his son was how to play the 'E chord.' Which is one of the chords that go into the music of Blue Eyes Crying In The Rain.
So the song was the first song that Lukas ever played on a guitar. While recounting this story, Lukas even gives a demo of the first notes he learned to play on his guitar. The proud father smiles at this.
"Sing it," Willie then requests his son. Lukas doesn't think about it twice, and gladly does his father's bidding.
As soon as he starts to belt out the lyrics to the song, one can notice the striking similarity of his powerful voice to that of his famous father.
Lukas sings the song for a while, after which Willie himself decides to join in. His other son, Micah, also adds a few back vocals, making the entire performance a magical experience.
The heartwarming video has been adored by the social media users as it has gathered over 1 million views and collected over 24,000 likes and reactions.
The soulful trio can also be heard in their newly released full album, Willie and The Boys: Willie's Stash Vol. 2. The album features several songs including the trio's cover of Hank Williams, Hank Locklin, Hank Snow, and many of Nelson's own hits.
Please fill in your e-mail so we can share with you our top stories!