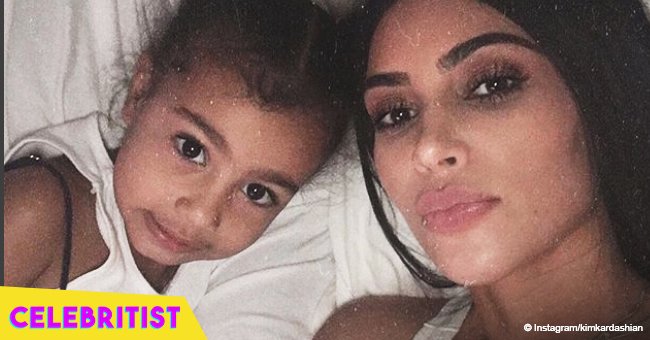 Kim Kardashian shares daughter North West's adorable question on why she's famous
She's the daughter of one of the most popular media celebrities today. She comes from a family of highly-publicized reality television stars. And yet North West, Kim Kardashian's eldest child, has no clue why her mother is famous.
Kim Kardashian recently opened up about the moment her daughter North West caught her off guard with a question. During her interview with Big Boy on Real 92.3, the mother-of-three revealed her surprise when her five-year-old asked her,
"Mom why are you famous?"
Not one to be tongue-tied with any question thrown her way, Kim was quick to respond to her child's inquiry.
"Oh, okay, okay. I'm going to have to explain this right now," Kim began and recalled how the conversation went.
"I'm like, 'We have a TV show.' And she was like, 'Oh okay.' That was the first time she was like, 'Oh!'"
North has been a part of 'Keeping Up With The Kardashians' since her birth in June 2013 and a regular on her mom's social media.
And because of her superstar status, her father is also rapper Kanye West, she already debuted as a model along with her mother and grandmother, Kris Jenner, for Fendi's #Meand MyPeekaboo campaign.
That being said, Big Boy was curious if North could possibly be richer than him and asked,
"Do you think North has more money than us? Like her own?"
An amused Kim cautiously replied,
North's "famous" question comes just weeks after her mother proudly shared how her children, including 2-year-old Saint and 6-month-old Chicago had no idea how popular their parents were.
"At home I'm not known. My kids have no clue what's going on. So I don't really feel it — I spend most of my time at home."
Meanwhile, North's cousin, Mason seems to be well aware of his family's popularity. According to his aunt, Khloe Kardashian, the son of Kourtney Kardashian knows about the cameras and the show.
"He knows. He doesn't watch it, but I've heard him talk to his friends and say, 'I'm on a TV show called 'Keeping Up With The Kardashians' I'm like, how does he know that?!"
Kourtney added that there was a time Mason would look forward to the crew he refers to as "the filmers."
"He used to be like, 'Are the filmers coming? I want to show them my Legos that I'm building."
Nowadays, though, Kourtney said Mason has become camera shy and no longer likes it when the filmers are around.
Please fill in your e-mail so we can share with you our top stories!