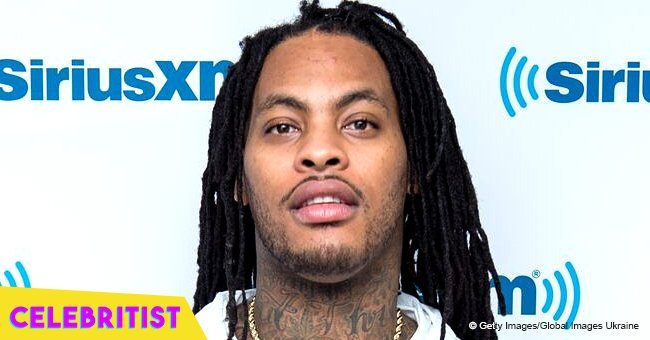 Waka Flocka melts hearts in photo with stepdaughter who is sporting chunky yellow braids
Waka Flocka and his stepdaughter, Charlie, are definitely best buddies. The rapper's marriage to Charlie's mother, Tammy Rivera, has had its fair share of ups and downs but that does not seem to have affected his relationship with 13-year old Charlie.
Taking to his Instagram, Flocka shared the cute car selfie of himself and Charlie. Flocka sports his signature braids, but it is Charlie whose hairstyle is the real attention-grabber. The teenager rocks chunky yellow braids that go way past her shoulders and can be seen clutching a phone. Flocka captions the post with a sweet message of gratitude to his wife:
"Tammy thanks for seeing a man in a boy; Bringing Charlie in my life. I'll give up my own life to see y'all smile #Family1st #BigHomieFlocka #FatherHood The streets cold!!! Nothing in the world could stop a real nigga with morals"
He succeeded in melting hearts across the internet, as many people took to his comment section to applaud him for loving Charlie like his own. Instagram user @_quinella said:
"True definition of loving a woman, so you accept everything that comes with her. If the @charliesangelll would've never said she wasn't his, I wouldn't have known. The bond is definitely there."
Flocka and Charlie have always shared a close bond which the rapper is never shy to flaunt. He refers to her as his daughter and recently said what any loving father would say about his little girl:
"Hell yea. I wanna be her best friend. We'll be standing in front of people, and they'll be like, 'When Charlie get's married—' and I'll be like, 'Married? She's married to me." Don't try to bring her no glass slipper. I bought her some red bottoms. She's straight."
Flocka's wife, reality tv star, Rivera also admitted that it would be an insult to call Flocka- who got a tattoo of Charlie's face earlier this year- her daughter's stepfather, implying that he was much more than that.
Please fill in your e-mail so we can share with you our top stories!