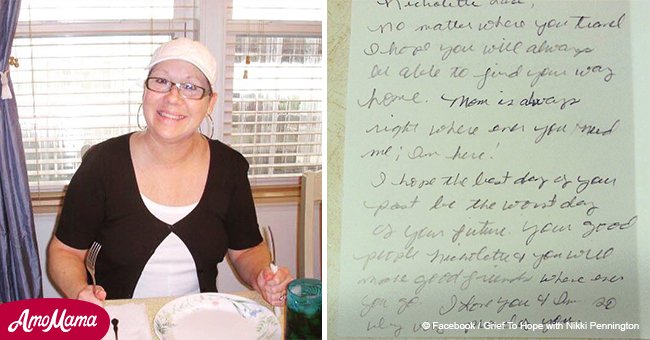 After woman's mother dies, husband shows her a note mom gave him on their wedding day
Nikki Pennington, who was prone to anxiety attacks since her childhood, always found support in her mother during difficult times and she was touched beyond belief when she realized that her mother had found a way to be with her always even after she passed away.
In a post shared on her Facebook page, "Grief to hope with Nikki Pennington," on February 26, 2018, Pennington has written that even though her mother is not physically present, she will forever find her mother through the words she wrote.
A mother is someone who is always there for her child, be it during good times or bad. She is the one who nurtures, serves as a confidant and is a witness to her child's hopes and accomplishments.
Pennington's mother had always been that supportive and loving mother in her life until she passed away and Pennington was devasted and full of grief, mainly because of the anxiety attacks that had troubled her since her childhood.
From the time she lost her mother, Pennington feared that she had lost the one person in her life that completely understood her, especially when anxiety took over her.
It was at that time when her husband disclosed a secret he had kept from her since the couple's wedding. Pennington's mother had given a note to her son-in-law on their wedding day.
Pennington's mother had titled the note as, "How to be Nikki's person." The letter explained what she would do when her daughter suffered from an anxiety attack, one step at a time.
"So I did, I gave him a chance to help ease my anxiety and it was as if I was talking to my Mom, it was as if I was talking to my person."
Nikki Pennington, Facebook, February 23, 2018.
She learned about her mother's little note to her husband after she passed away. In the note, she mentioned five steps on what she would say and do when Pennington's anxiety would take over her.
Step one asked him to listen to her, while step two insisted that he listened some more. She advised him not to try to solve her problems.
Step four was to tell her that he understood her and step five was to listen to her until she sorted things on her own like she always did.
In her blog, Pennington talks about the extent to which she missed her mother and how she wished that her mother would be there right next to her.
She then went on to say that her mother will remain with her forever through the words she had written and that she sees her mother right there "between the lines."
Please fill in your e-mail so we can share with you our top stories!