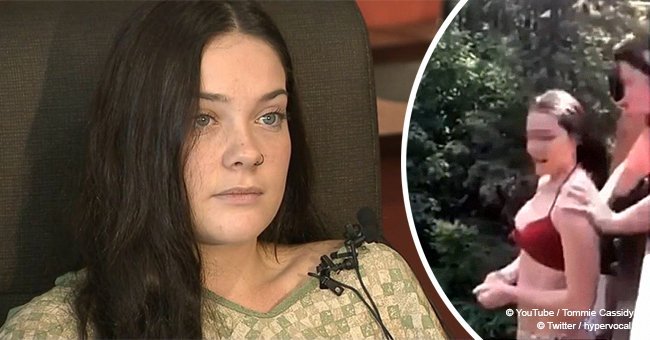 Mother speaks out after shocking video of daughter falling from a bridge emerges
The 16-year-old Jordan Holgerson's mother opened up about the incident that left her daughter hospitalized with five broken ribs and internal injuries.
Genelle Holgerson told TDN in a telephonic interview that Jordon is "lucky she is not paralyzed or dead," and that she will recover without any permanent injuries. She added:
"She is alert but in pain and is very tired."
Jordan was released from the hospital earlier today. Read more on our Twitter account, @amomama_usa, and scroll down for the shocking footage
Her mother also told the media that they know who pushed Jordan off the bridge. Authorities are investigating the matter but didn't respond to TDN's inquiry.
The distraught mother added that she's upset with the woman and that as an adult "she should have known better" because the fall could have killed Jordan.
Jordon's medical team agreed, with surgeon MaryClare Sarff adding that impacting the water from the height is dangerous. Sarff explained:
"When you fall three times your height, 50 percent of people will die."
Her sisters Vanessa and Kaytlin also made their feelings known, with Vanessa pointing out that Jordan clearly said in the video before she was pushed.
Kaytlin was furious and added, "Friends don't push someone from that high." Both agree that the woman who pushed Jordan should face "some sort of consequence."
Jordan has since warned other teens about the dangers of jumping from that height and said people know what you're doing and should be aware of the risks.
The Moulton Falls bridge is a popular spot for cliff jumping but can be extremely dangerous as there are rocks nearby and the changing water levels.
The Outdoor project advises that anyone planning to cliff jump must be aware of the risks involved. A note on the site warns:
Prior to engaging in these activities, extensively scout the current conditions, and understand the risks involved with serious injury and the logistical challenges of evacuation from the water.
Please fill in your e-mail so we can share with you our top stories!