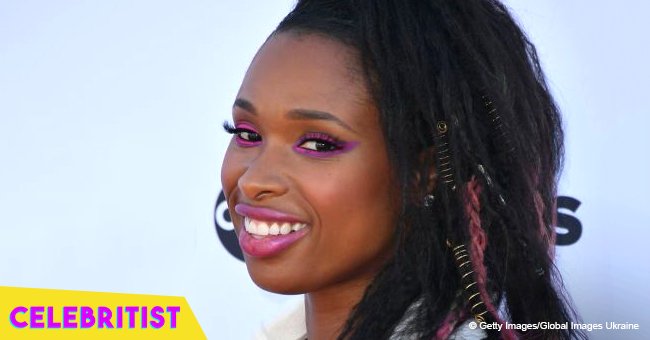 Jennifer Hudson stuns in tight green dress and golden accessories in recent pictures
Jennifer Hudson is best known for finishing seventh on the third season of "American Idol." She shared a photo on Instagram of her beautiful outfit.
In the image, Hudson appeared looking to her right while wearing a tight dark green dress and two necklaces. One of them read "Jennifer" while the other one was considerably thicker.
Apart from her clothes, her beautiful hair – which was let loose over her shoulder – made her look gorgeous.
Hudson's face was also remarkable as her makeup was on point and it enhanced her pretty features.
For the caption, the coach of the upcoming season of "The Voice" pointed out that she was rocking her Adam Levine "bling," referring to her necklaces.
As soon as she uploaded that post, her fans and followers took to the comment section to share their thoughts. One of them was Instagram user Trace Wald, who pointed out that Hudson was "simply stunning."
According to Daily Mail, Hudson wore that dress while out with a couple of friends in Los Angeles for brunch. She combined her tight number with rainbow-hued flip-flops.
Hudson, Levine, Blake Shelton, and Kelly Clarkson are set to begin the blind auditions of "The Voice" in September.
While Hudson's debut as a coach in the show was not as successful as she would have liked, she is ready for a second chance.
Not only is Hudson a talented musician, but also a wonderful actress. Her film debut was released in 2006 when she portrayed Effie White in "Dreamgirls."
Due to her outstanding performance, she won an Academy Award, a Golden Globe Award, a BAFTA Award, and a Screen Actors Guild Award for Best Supporting Actress.
She is ready to play feline Grizabella in "Cats," the cinematic adaptation of Andrew Lloyd Webber's musical with the same name.
Actors like Ian McKellen, James Corden, and Taylor Swift are set to appear on the project, too. So far, it is not known when "Cats" will be released.
The only aspect of the project that has been confirmed is that they will start filming it at Leavesden Studios in Abbots Langley, England in November 2018.
Please fill in your e-mail so we can share with you our top stories!