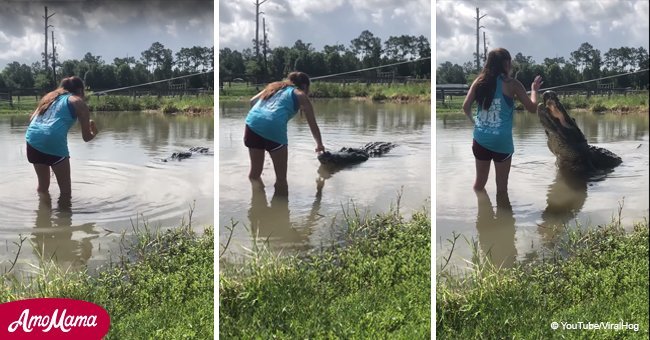 Woman fearlessly feeds 14-foot alligator
The 21-year-old bravely displayed the special relationship she shares with the beastly reptile.
Mackenzie Noland may have only just graduated, but she already has a unique feather on the hat. At merely 21 years of age, she has established a strong bonding with a 14-foot alligator, aptly named Big Tex.
Big Tex is 13ft 8.5 inches in size, roughly comparable to the size of a giraffe. Kept at the Beaumont's Gator county park, he is among the largest of his species to be preserved at the facility in Texas.
While a reptile of such physical prowess might scare away most, Noland can approach him and interact with him without fear.
KXTS reported that Noland considers Big Tex to be one of her closest friends. She caught worldwide attention when she posed with the beastly reptile in her graduation photos.
Read more about amazing stories from wildlife on our Twitter account @amomama_usa.
In video clips that have been going viral, Noland is seen entering the water where Big Tex seems to be resting. With a slow but steady gait, she wades through the water and waits for her friend to show up.
As an incentive for Big Tex, she throws around a snack in the water, and sure enough, he raises his head and appears on the surface of the pond.
Further, into the video, Noland is seen comfortably inviting Big Tex to come closer, after which he opens his jaws, expecting a treat.
Noland, who is an intern at the park, then pops a snack into Big Tex's mouth. After having initiated the snacking session, Noland knows exactly how to get Big Tex to move around.
She continues to drop snacks now and then, getting him to follow her trail in the pond. Portraying her affection for the alligator, she gently tickles him on his snout.
Speaking to Fox News about her unusual friendship, Noland stated that Big Tex had allowed her to be near him and that she considered it an honor. She also revealed that she played with the reptile on a daily basis.
While Noland's chemistry with Big Tex may seem effortless, it is important to note that she is qualified and experienced to indulge in such play and that this should not be tried by the untrained public.
Please fill in your e-mail so we can share with you our top stories!