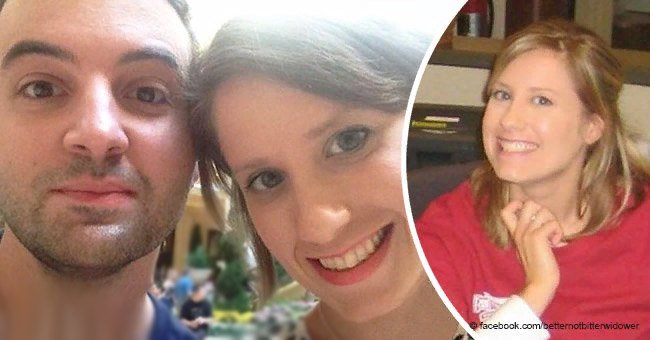 Bride dies before the wedding, then fiancé finds photo she forgot to erase
The tragic history has touched users of social networks worldwide.
John Polo lost his wife Michelle tragically just a couple of weeks before celebrating their wedding. Devastated, John decided to create a Facebook page in memory of his beloved Michelle, in 2017.
In the process, John came across a photo of Michelle wearing the wedding dress she could never wear to the altar and decided to explain to everyone the story of the photo.
"We got married in the town hall a few days before the first operation will take place, we went immediately, we wanted to become husband and wife, we did not know if Michelle was going to survive the next operation," John said.
They were boyfriends in high school, but life separated them after a while. After eight years, they crossed their paths again and recognized the strength of destiny, according to People
Unfortunately, Michelle suffered from a very rare, totally incurable cancer. At that time, the couple made the decision to get married "for real". Read more on our Twitter account @amomama_usa
They had had a simple and practical wedding at the local town hall and wanted this time to walk down the aisle of the Church, in the traditional way.
"But Michelle died two weeks before the wedding could be held, I regret so much that I could not see her walking to the altar, she had bought a wedding dress, her dream, she liked it very much."
Within a week of his death, John found the image by checking his late wife's phone number. The dress had to be kept secret until the happy day he walked to the altar, and he had never seen it before.
John explains that "I remained motionless in bed, happy and devastated at the same time." Tears fell on my cheeks and I laughed loudly at the memory of how important it was to her, my wife, her wedding dress.
He wants to live a long life, get married and have children, grandchildren, and great-grandchildren, and know love, grief, and loss. He also hopes to one day be able to see Michelle again in heaven.
"When my time comes, I'll go running there, I'll go straight to heaven to see her again," he said.
The reactions on Facebook
Hundreds of people around the world were moved by John's story and showed countless displays of affection and compassion.
Sebastian Hernandez Morales, wrote: "How sad your lost friend as any beginning has an end so it was with your wife in truth my condolences for you (sic)".
"I love your words, it's never a goodbye, but a good one, this life is just a blip in the eternal world that we live as believers in. I lost my parents at an early age and I run to meet them and meet all beings Dear ones I never knew ... With everything that is mentioned in the Bible about the end of time and everything that is happening in the world, I do not believe that the return of Jesus is far away ... Love is eternal! "
Truly, she was a beautiful bride and it would have been a beautiful day. Hopefully, John can find again everything that was lost next to Michelle, and that these lovers get to see each other again, somewhere.
Please fill in your e-mail so we can share with you our top stories!